You've heard the phrase 'There's an app for that', well it's probably true, but how do you know whats out there; well that's where I hope I can help!
Being relatively new to diving & a bit of a tech geek I've been very interested to see what the intersection of my two loves might produce.
With this post I'll concentrate on Digital Logbooks (Category Types & Desktop/Cloud), with later articles, assuming I get the chance, will cover Digital Logbooks (Mobile/Cloud) and possibly Weather/Conditions Information, Training and a Miscellaneous catch-all for anything I've missed.
So, what functions can make or break a Digital Logbook? might I suggest the following…
Desktop offering: A desktop (or cloud) version of your logbook that enables you to store lots of detail & browse your adventures on a big screen – makes sense
Mobile offering: With the ubiquitous spread & convenience of mobile devices I'd suggest the ability to carry your logbook with you is a must (I'll cover these in detail in a later article)
Location: your phone knows where it is at all times – assuming it can 'see' the sky, regardless of whether you've got a mobile signal so logging the location of your dive should be a no-brainer – typing in GPS co-ordinates on a map should be a thing of the past, shouldn't it?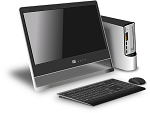 Synchronisation: between platforms (desktop, cloud & mobile) – duh!
Synchronisation: between your dive computer and the mobile/desktop app – you really don't want to type it all in again & certainly not all that sample data!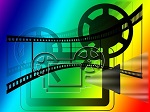 Support for Photos & Videos – a picture is worth…etc…
Social Media integration – the ability to share your experiences with divers & non-divers alike – shout about it!
Dive Site Database – for easy reference & inspiration
Categories of Digital Logbooks
As I see it there are 3 core categories of Digital Logbooks: Manufacturer produced, Agency linked & Independent and each may offer a variety of solutions from software you need to install on your computer, to a mobile 'app' or a purely browser-based internet 'cloud' offering.
Let's take a look at what's available in each category.
Manufacturer
Your dive computer manufacturer will often offer a complementary program to enable you to download the dive information from your computer & visualize it. This is usually free (sometimes a 'lite' version) & obviously being guaranteed to work with your computer is a big plus, while on the minus side it'll likely only work with your computer so if you change computer brand you may have the joy of trying to migrate all that valuable dive data.
Aeris/ AquaLung/ Beuchat/ BISM/ Genesis/ Hollis/ Oceanic/ Sherwood/ Subgear/ TUSA – DiverLog desktop app (for Mac & Windows) is comprehensive with as much detail as you could ever want including media storage.
The full version ($25) adds further synchronization as well as social media sharing
The mobile app for iOS ($12) & Android ($12) enables you to take your dives with you & sync with the desktop app & cloud option: DiveCloud – a cloud data storage option.
Cressi – Log Book (for PC & Mac) comprehensive in detail & allowing you to simulate dives (including displaying the profile alongside the display on the computer) and offering the ability to print log books, the look-and-feel is a little garish & dated. Unfortunately there is no detail on the Cressi site about the software, you literally have to download & install it (a long process) to see it – not very friendly!
Depending on the model of dive computer the interface is variously Bluetooth or infra-red rather than metal contacts.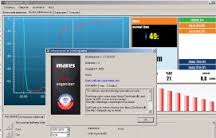 Mares – Dive Organizer v2.25 (for PC) & Divers Diary – v1.10 (for Mac) along with iDivers Diary -$10 (iOS) & DiveMate (iOS/ Android). – The latter works with other dive computers.
A confusing set up in terms of the named desktop & mobile apps – though I guess once you've settled on your desktop & mobile OS of choice you don't need to look further.
Pretty comprehensive with Dive Organizer being the more attractive of the offerings.
Above: Dive Organizer (PC), below: Divers Diary (Mac)
My computer is a Mares (Puck Pro) & I have tried the Mares desktop software but have defaulted back to an Independent offering as some of the limitations, such as the kit cataloguing function just annoyed me (and the whole thing looks very primitive) , but perhaps your feelings may be different.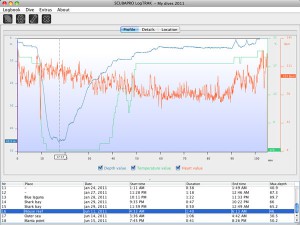 ScubaPro
– LogtTRAK, (PC & Mac) and SmartTRAK v2.09 (PC only)
LogTRAK covers all the bases with the ability to capture & present dive profile data, dive details (that can be edited), including presentation of locations on a map. In addition a catalogue of kit & dive sites can be maintained.
SmartTRAK does much the same a LogTRAK & I'm not sure why Scubapro offer both, though there is an app (for android) for LogTRAK, excitingly called LogTRAK for android
Suunto – DM5, (PC & Mac) & apps Suunto (iOS) & Suunto (android).
Provides the usual capabilities including the ability to analyze dive details like max depth, gas time or water temperature, create and upload detailed dive plans to your dive computer, make notes etc..
For Suunto EON Steel, Suunto EON Core and Suunto D5 owners, DM5 enables display customization and firmware updates.
Verdict: Overall this option is a good one for starting out but you may find it limiting as your aspirations for documenting your dive experiences increase, many feel like they were an afterthought & are somewhat primitive & could seriously do with a fresh look – I'm looking at you Cressi, while others, such as DiverLog really do set the bar high such that if you have a compatible computer you'd have little reason to go anywhere else. If you haven't already played with the one for your computer then explore the links above – it may just fit the bill.
Agency
A few of the well known diving organisations have dive logging web sites, their key advantage is the terminology will be understandable & specific to the agency training you have undertaken but on the other hand you may find they leave out resources (centres, boats etc.) that are not associated with that agency.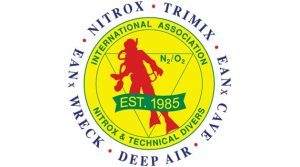 IANTD have partnered with cloud logbook provider Diviac. Diviac is covered in detail in the cloud section later. IANTD are leveraging the partnership by enabling instructors to log their training dives and directly send validated logs to their students' logbooks. Certified divers can also mutually validate each other's logs.
PADI – offer another cloud logbook with SCUBAEarth. Check out the link for more details if you got your training from PADI

SSI – offer MYDIVELOG, again a cloud offering. Take a look at the link & see if this is for you
Verdict: limiting in restricting primary functionality to members of specific agencies – doesn't help networking/ sharing/ community but the non-affiliated cloud offering from Diviac is worth a go – see later
Independent
There used to be a huge range of independent dive log software, particularly for Windows (see note at the end of this section) but things have now consolidated into essentially 4 applications, all of which are very good, though restrictive in terms of what platform they are available for – except for Subsurface.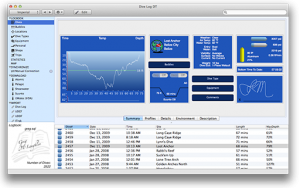 Dive Log DT  v4.5.10 ($24.99) (Mac) A companion application to Dive Log (iOS). Dive Log DT allows you to download, edit and manage your digital scuba diving log book.
It is an extended version of the free "Dive Log Manager" application that adds direct editing capabilities and the ability to download a select number of dive computers.
Diving Log 6.0 ($45.68) (PC) , also the in-beta Diving Log (iOS)  – Import  dive log data from most dive computers (from the manufacturer software or direct from the computer itself) and analyze & filter with numerous statistics & charts.
Catalogue equipment, buddies, photos & sites & exported in multiple formats, synchronized to iPhone, Windows Phone and Android, or uploaded to the web for online presentation.
Create bespoke logbook printouts & share with friends.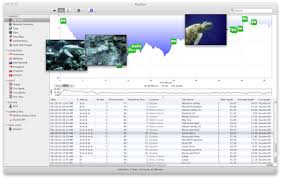 MacDive($25.00) (Mac) Desktop application to capture data from dive computers (or via manual entry) & present in a variety of views.
MacDive is a thing of beauty, letting you import data from your computer, store photos, maps, gear configurations, profiles etc. & present them in an attractive way. The developer (Nick Shore) provides excellent tech support via the forums. It is also easy to sync with the MacDive (iOS) or Dive Log iPhone apps via DropBox or iCloud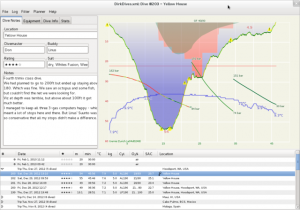 Subsurface ($0.00) (Windows/Mac/Linux)software for logging and planning scuba dives. It was initially designed and developed by Linus Torvalds and Dirk Hohndel in 2011.
From a detail perspective I can't fault it & if that floats your boat then this might hit the spot. Could do with enhancements in the visual arena around photographs etc. rather than reams of statistics.
Verdict: You'll have seen my gushing for MacDive, but that's no use to you if you only have a PC, so in that case I'd say Diving Log 6 is the prettiest of the PC offerings, while Subsurface has more detail.
Appendix