The Sky's the limit!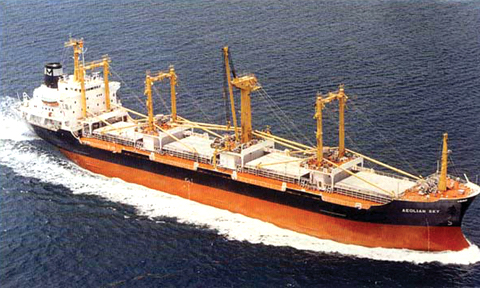 I've previously mentioned I was looking to put a few hard-boat dives in the calendar ahead of getting the RHIB back in the water at Easter but also interspersed with potential RHIB dives throughout the year so club members have a variety of diving to suit all tastes.
These dives tend to be a little more challenging than the RHIB dives (in terms of depth or skills required) but not (generally) out of reach for Sports Diver & above and will generally be out of Portland (with the RHIB being generally used for Plymouth & avoiding overlaps).
This one is a day trip to dive the wreck of the Aeolian Sky on Skin Deep out of Portland Harbour –  This is a 2 dive day so no coming back to port.
The 
Aeolian Sky
 was a Greek-run freighter built in 1978, which collided with another ship near the Channel Islands and after a failed attempt at salvage sank off the coast of Dorset in a storm in late 1979. She lies surrounded by parts of 
L
and Rovers and pipes that were among her cargo, she was also carrying two 0-6-0 diesel electric locomotives and a million pounds in Seychelles Rupees most of which have yet to be recovered (although a few have made their way to auction). Divers report the wreck is surrounded by thousands of jars of Marmite! See the Divernet Wreck Tour here 
https://divernet.com/world-dives/wreck-tour-27-the-aeolian-sky/
After a surface interval of about 90 mins we will have a second dive whose site is to be determined on the day cost is £75 and it's ropes off at 08:30 with an approximate 1pm finish