by Paul.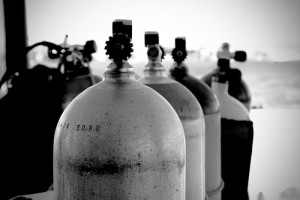 7th March, 2006 : I've been approached by a couple of members asking about Nitrox.
Nitrox involves breathing oxygen enriched gases to extend your dive time, or as an increased safety margin (if diving with an air computer).  The good news is that we can now run the course within the club at minimal cost.
The BSAC Nitrox Diver course is open to BSAC Ocean Divers (or PADI OW Crossovers), and its a one-day classroom based course.
The course will
Introduce you to the use of EANx 32 & 36 as a diving gas within no stop dive times.
Teach safe use of Nitrox with BSAC 88 tables, BSAC Nitrox tables, and dive computers.
Teach and assess competence in the use of Gas analysis equipment.
And finally,  a short multiple-choice written test.
If you later want to use other Nitrox mixes up to 50% for decompression  diving, you can move on to the BSAC Advanced Nitrox Diver course, which  involves some extra lectures, and two open water dives.  The open water dives will test for good buoyancy skills and the ability to launch a DSMB mid-water whilst holding a simulated decompression stop.
It is possible for experienced Sport Divers to take both courses together as a "Combined Nitrox" course.  If you're interested in this option, let me know and we'll try to arrange something later this year.
For now though, if you're looking for an introduction to Nitrox, we can run Nitrox Diver at any time.
If you're interested let me know which course, and when you're free.
If you have a spare day we could even get you Nitrox qualified before Easter!
Estimated course costs are:
BSAC Nitrox Diver  £27 + room hire costs.
BSAC Advanced Nitrox Diver £27 + room hire costs.+ dive costs
BSAC Combined Nitrox Diver £37 + room hire + dive costs
Course costs include Student Handbook, BSAC Nitrox Tables, BSAC Nitrox
Qualification card & logbook sticker.
If the numbers are small, it is feasible to hold the course around at my house, negating room hire!
More information from BSAC at:
http://www.bsac.org/techserv/syllabus/nitrxsyl.htm
http://www.bsac.org/techserv/syllabus/antrxsyl.htm
http://www.bsac.org/techserv/syllabus/cntrxsyl.htm