by Harry Ryalls.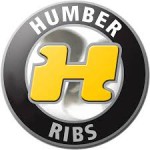 4th July, 2004: After a very long busy journey Friday afternoon / evening, two of our members went along to Humber yesterday morning and collected our latest acquisition. A 4.8m Humber Alpha RIB.
The Humber Alpha replaces our existing 5m Avon Inflatable which is now up for sale, and joins our 4.8m Ribcraft in the boat shed. We now have two very capable new boats which should serve us well.
So, finally that brings to an end a programme that was started about 5 years ago to upgrade the club boats. It's been a bit of a struggle, but we now have 2 superb boats that we can be justifiably proud of. The new boat will launch on Monday at Bristol Marina when you will have the chance of seeing the new boat. Thanks to our new Evinrude E-Tec engine there is no required 'running in' period. So, if you can't make Monday you should see our new baby very soon at a dive site near you.
Copyright © 2008 Bristol Aerospace Sub-Aqua Club