by Rob.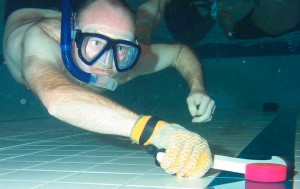 27th January, 2015 : Just a reminder that we have a committed group of underwater hockey (Octopush) players who would like you to join them.
It's an exciting sport and a great way to improve your snorkelling skills.  It's open to all levels and there are no extra charges, just your regular swimming fee.  All you need are your mask, fins and snorkel.  All other gear, hat, bat and glove are provided.  The next few weeks are a great time to come along and have a go to get fit for the dive season.
It may look like a bait ball from the surface, but it's much more civilised, you may even say graceful, underwater. We have a swim and a practice up to 9:00 and a game from 9:00 to 9:30.
So if you've played before, or are a complete novice and would like to have a go, please come along to the pool at Badminton School on a Monday evening, 8:15 to 9:30.  If you're too scared to come on your own, please bring a friend.
I look forward to seeing you at the pool soon 🙂