The 2016 BSAC Diving Conference is being held on Saturday 22nd October at the NEC, Birmingham.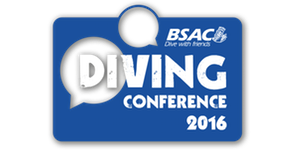 The conference is your chance to hear about the latest thoughts & discussions on diving and BSAC in general. Every year the conference hosts significant guests in the world of diving and this year is not exception:-
Dr. Neal Pollock, world-renowned diving medicine expert will talk about thoughtful management of decompression stress.
Jill Heinerth, pioneering underwater explorer and filmmaker, will be bringing her inspirational diving experiences to the stage.
Steve Jones, underwater photographer and journalist Steve Jones will be speaking at the new BSAC Diving Conference dinner
Plus:
Expanded breakout sessions
Hear from your National Diving Officer, Sophie Heptonstall
Training and safety developments – including the revised Ocean Diver course which will be launched at the conference
2016 Incident Report
Safeguarding British marine life – hear from MCS's marine environment campaigner Rachel Alcock
England's protected wreck sites – hear the latest from Historical England's Alison James
Post-event drinks
Post-conference three-course dinner with guest speaker at the Hilton Birmingham Metropole
FREE access to the Dive Show all weekend
The BSAC Diving Conference 2016 is open to all members.
Plenty more details along with full downloadable PDFs of the programme are available on the conference web site here
Tickets are available at £25 each here