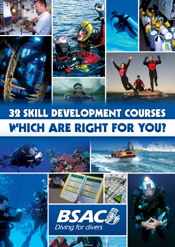 In addition to the 'core curriculum' of Diver Grade Training, BSAC recognises the wide diversity of interests of those coming to the sport and provides a wide range of specialist supplementary courses to highlight the breadth of knowledge and experience diving has to offer and help divers achieve self-sufficiency in all their diving activities. The subjects aim to expand the abilities of the diver in usefully exploring and enjoying the undersea world.
Skill Development Courses (SDCs) are open to all qualified divers from Ocean Diver level subject to individual course requirements.
Our club is able to offer a number of these courses in house, greatly reducing the cost; other courses may be arranged at a regional or national level by Regional Coaching teams.
Courses typically include Wreck Appreciation, Underwater Photography, Boat Handling, Marine Life Appreciation, Buoyancy & Trim, Search & Recovery, Practical Rescue Management, Outboard Engine and Boat Maintenance, Ice Diving, Compressor Operation and a whole range of others; a list of the current courses is available here
A list of courses reasonably close to Bristol are available for
The South West region (typically Chepstow, Plymouth, Lyme Regis, Falmouth) here
The South region (typically Chepstow, Southsea, Vobster, Solent) here
Wales region (typically West Wales, South Wales, Chepstow, Swansea) here