by Mary Hartigan. 
This was Tony and my second visit to the Maldives islands, so after a long flight we were eager to see if it was going to live up to our accounts of our first time around.
On approach to the island it hit me that it was very green, full of palm trees and bushes giving plenty of shade which would be very welcome as it was very hot before. Hot towels & ice cold drinks greeted us as we arrived along with the warm friendly smiles from the staff who would be looking after us during our stay on this wonderful Island. The accommodation was first class and we were lucky enough to be placed as near to the beach as you could possible be. Soft white fluffy sands with the crystal clear water rippling gently to the shore, what a welcome. A couple of minutes away we discovered the Sunset Bar which after it's name sake was to give us the most spectacular views of the sunset.
The welcome briefing was given regarding the diving and everyone was asked to attend a compulsory dive check at the dive centre. All around the island the house reef was not far from the shore and it sloped down to about 30 meters. On entry for our check dive I was very surprised to find at 10-15 meters a slight current, which meant that we all had to hang onto a rope which, was tied from the surface to the seabed. About a dozen divers were having our check dives done at once and you couldn't help laughing at the strange site it gave. All of us were hanging on in a line onto this rope taking it in turns to take off our masks, clear them take out our demand valves and to do a recovery. The dive guide had to wrap himself around the rope also to stop him from being taken by the current.  This left his arms free so he could hold onto us in turn to allow us to do the required disciplines. I'm pleased to say that we all completed this without any mishaps.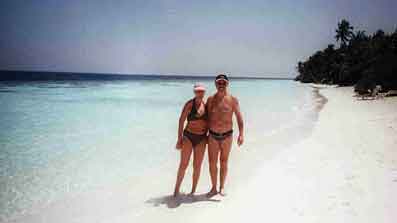 Once this was over we had a look around the house reef which to my surprise was full of the most colourful fish and corals, plenty to see for all the snorkelers in our party as well as us divers. With this in mind after lunch we decided to take in the non-divers to give them a crash course in snorkeling so they too could enjoy the beauty from beneath the ocean. It was a pleasing sight knowing that the whole party would enjoy the capture of this enchanting Island Vilamendhoo I knew from this moment that we were all truly in paradise!
Copyright © 2001 Bristol Aerospace Sub Aqua Club.        Last updated: 25-April-2001