Tim: It was May Day, Bank Holiday Sunday, so naturally the forecast was for wet and windy weather; but thankfully not too windy, so off we set at 6am-ish with one of our club RIBs heading for Plymouth.
Plan A (if conditions were favourable) had us diving the wreck of the James Egan Layne. Plan B (if unfavourable) were a selection of more sheltered sites within Plymouth Sound.
If you don't know the James Egan Layne, she's an amazing WW2 Liberty Ship packed full of all sorts of interesting stuff. (see http://www.totnes-bsac.co.uk/wrecks.php and http://www.divernet.com/wreck-tours/p301651-wreck-tour:-62the-james-eagan-layne.html )
I'd have to say conditions were far from perfect but were good enough to give it a go and our party (Rob – our cox, Geoff & his son Rich, along with my buddy Kevin & I) agreed we would abort and turn around if necessary once out of the shelter of the Plymouth Sound.
Although a bit bumpy on the way, we arrived on site in good time and as is often (but not always) the case, there was a marker shot line on her so she was straightforward to locate.. This was to be Kevins' (my buddy) first dive on her and knowing the wreck, I was sure she would make it worth the effort.
As we followed the shot down it did not look too hopeful, with initial viz at 2 metres but as we neared the deck at the bow things started to clear so we ended with perhaps 4-5 metres and as is the case with most mature wrecks, she's also a living reef.
A number of Ballan wrasse (Labrus bergylta) casually observed our arrival but didn't seem to be bothered by us.
White and brown Ballan wrasse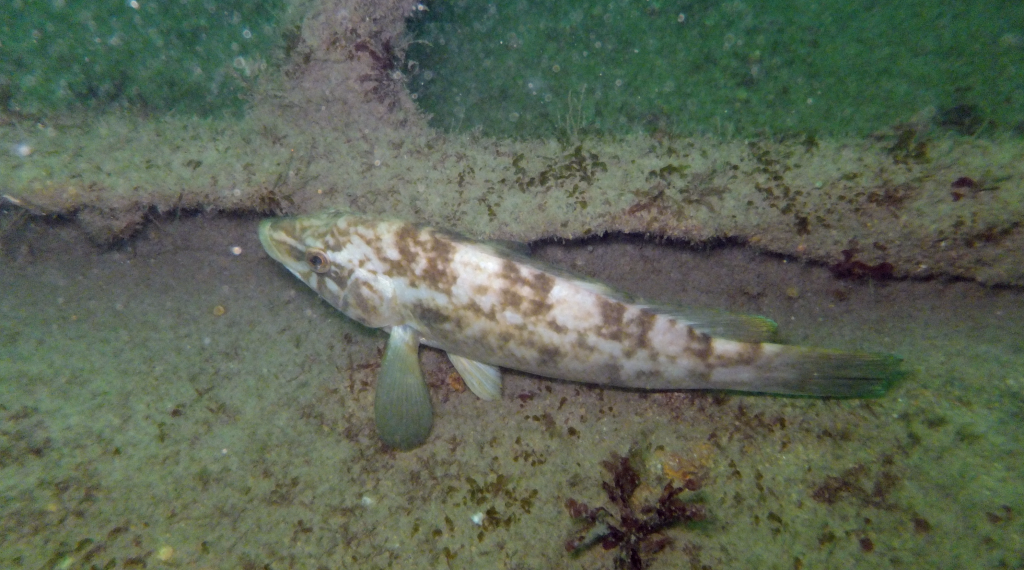 Oaten Pipes hydroids (Tubularia indivisa) with Sea Anemones (Sagartia elegans)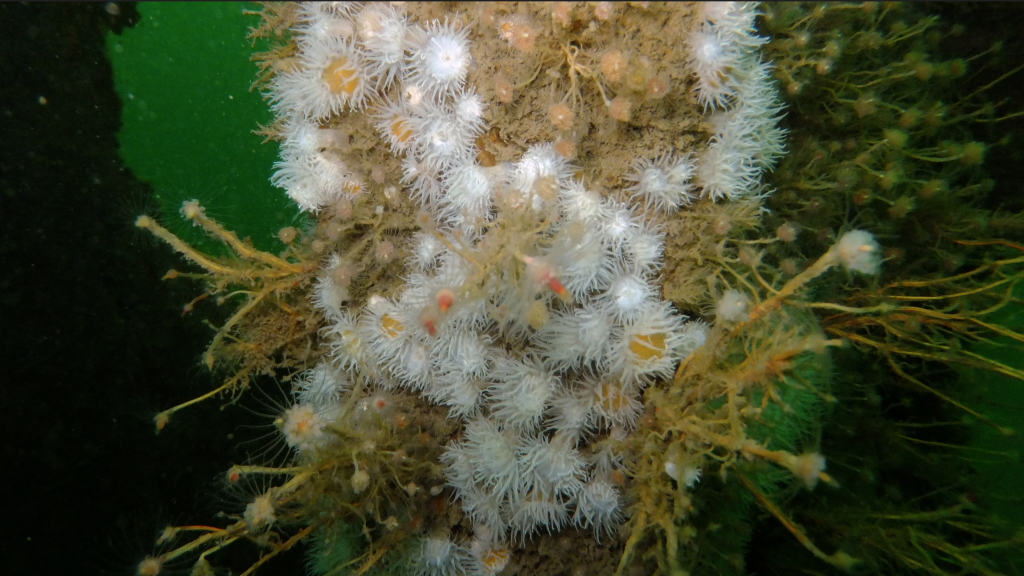 Sea Anemones (Sagartia elegans) and Oaten Pipes hydroids (Tubularia indivisa)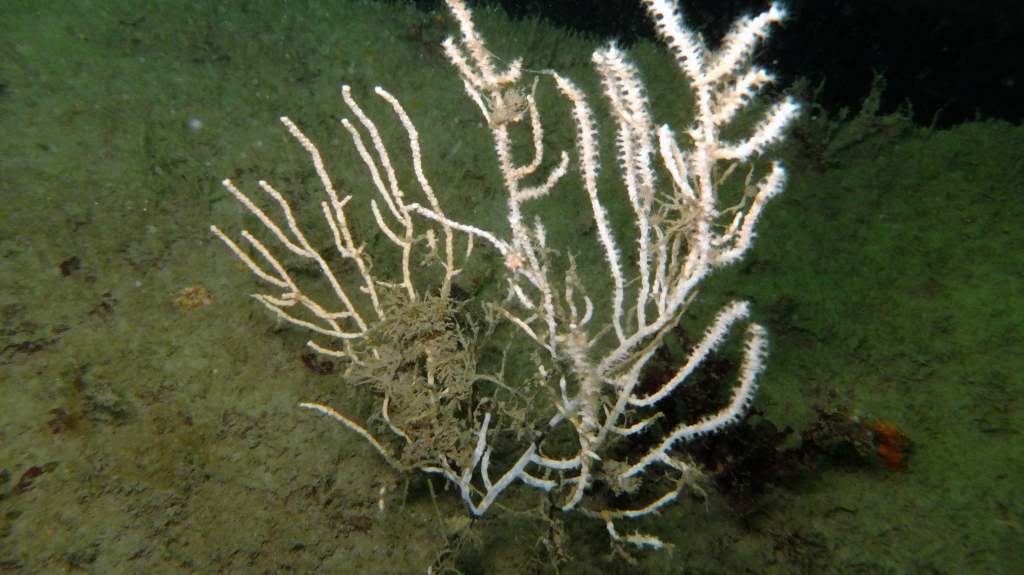 Pink Sea fan (Eunicella verrucosa) 
Dead man's fingers (Alcyonium digitatum) feeding
We didn't venture far. We didn't need to. Although the viz of 4-5 metres was more than adequate to appreciate the wreck there were too many particles in the water to use flash on any distance photography, hence the photos were taken with only ambient light and are thus are very green.
Kevin: A long overdue visit to one of the best known & loved wrecks of the English South Coast. Tim, as he mentions above, was my buddy (the wreck obviously has fond memories for him) so there was a degree of nostalgia in the air!
Despite the relatively low viz (I reckon 4 metres was pushing it), the word that came to mind was majestic, and to some extent the low viz even helped by only giving a hint of the looming framework & holds before they solidified out of the murk.
Lying upright in an average 20 metres depth (the separated stern section lies some way to the south in 24m) there was many a time where I would be scanning the liberally scattered debris (a pick & mix bag of everything from locomotive wheels and winches to wooden spars…..) & coming across a vertical beam I would follow it up only to see it join others arcing overhead & only then realise I was inside another hold! – the great thing about it is that due to the size of the holds & the deterioration wreck penetration isn't the issue it might otherwise be for less experienced divers.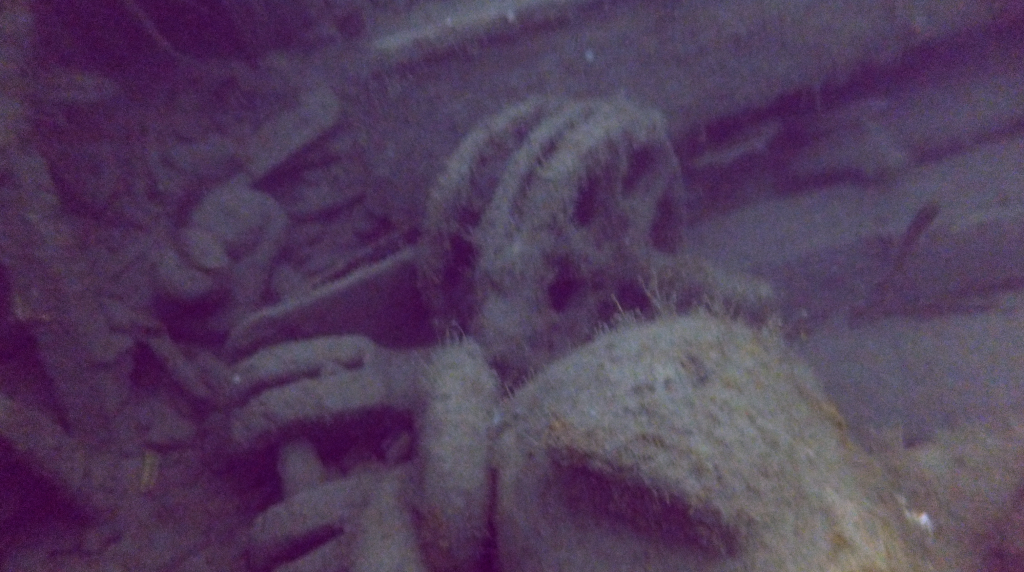 Assorted cargo and debris …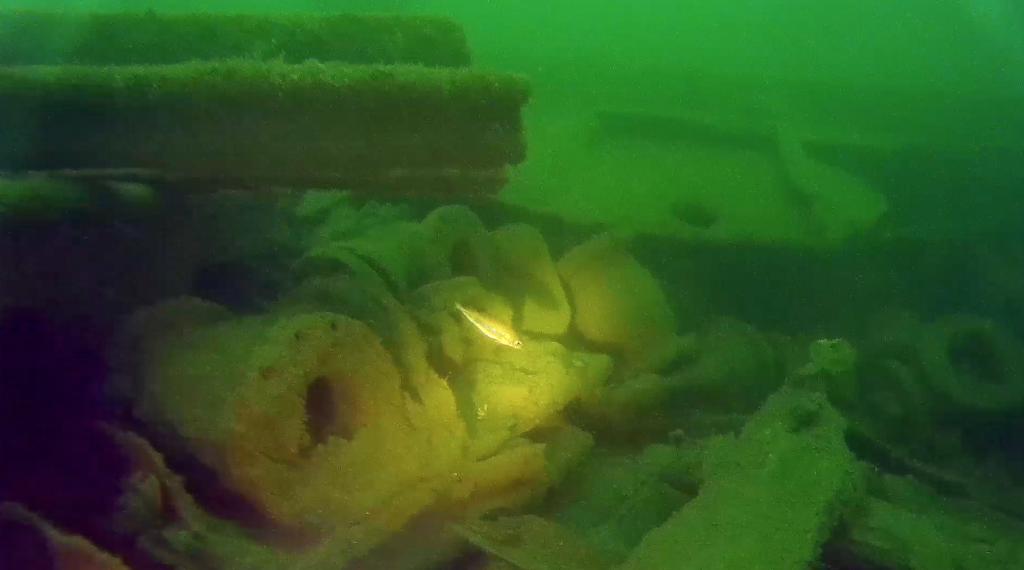 A steam powered cargo winch (now upside down)
Within and around the collapsing framework of hold struts & debris there are the divers friend – various large lazy wrasse who don't seem the least fazed by us ungainly hulks & our bubbles (who says you need a rebreather to get close!) along with bib, cod and pollack.
As Tim says we didn't stray very far: pretty much the bow & No. 2 hold (there are 5 altogether); the starboard side provided easy entry to the interior & the port a 15 metre high wall of white and orange plumose anenomes, liberally broken up by swathes of jewel anenomes and working towards the stern eventually a gap also provided entry back to the interior but as Tim mentions no 2 dives on the JEL are the same and you can't cover it in one so I'd love to go back in better viz & explore more
After 50 minutes or so we headed back and joined our fellow divers for the bouncy trip back. The wind had picked up & the rain set in so we arrived back at Mount Batten looking very bedraggled. An original intent to do a second dive was mutually postponed for a better day and we washed & put the boat away in the compound.
A small haul of stainless steel washers & screws on the compound gravel stood in (partially) for the cancelled bimble around Tinkers' Shoal
Lots more information is available at the following links
We would be remiss if we didn't thank our stalwart cox Rob who safey got us there (and back!), Tim for towing the boat down and our fellow divers, Geoff & Rich who shared our little adventure. Let's come back soon!