'This was our first major diving excursion of 2019 & so to provide a flavour of the goings on the dive report includes the perspectives of a number of those who attended in their own words (and in many cases their own photos) with some further commentary from myself. Thank you everyone for your contributions, you make it all worthwhile' – Kevin
Thursday 18th April:
Diving out of Plymouth on one of our club boats with overnight accommodation at Venn Farm (https://www.brixton-caravan-camping-park.co.uk/ ) was the order of the day, this is how it happened…

Tim: 'Boat delivered and parked,  base camp established, fish and chip supper consumed, liquid refreshment in progress 🙂 '
Kevin: 'A surprise call from Tim asking if 8:30 am at Mountbatten, Plymouth was doable kicked my diving weekend off a day earlier than expected due to bad communication on my part but when the words 'I'm in' made Tim so happy I knew it was the right decision – now all I had to do was get everything sorted a day early – panic!'
Friday 19th April (Good Friday):
Geoff, Neil, Tim & myself formed the advance party with Claire & Luke arriving later (as it turned out much later after a 4-5 hour journey from Bristol 🙁 that's Bank holidays for you!)
Boat loaded & launched we headed across relatively calm seas in the bright Easter sunshine – a glorious day weather-wise, now we were to find what the diving was like
Dive 1: James Eagan Layne (JEL)
With boats already around the JEL & Scylla (sitting beside her not far away) we were granted use of an existing shot saving us the effort of deploying one – result!
Tim & Neil kicked things off with a respectable 45 minute dive but indicated visibility was 2-3 metres at best & Tim expressed surprise at how much had changed since he'd last dived here. With this in mind Geoff & I hit the water & descended. A chilly 10 degrees greeted us as we reached the wreck & Tim was correct, this wasn't the scene I expected! A huge mechanical contraption that looked like the innards of a giant clock carved from stone confronted us!. We continued and came across spider crabs hiding at the base of huge overhead davits while Geoff spotted a shy Blenny in a small overhang. Further exploration revealed part of the hold (& more spider crabs) & the huge stern post on the bottom.
All the while curious wrasse of various types circled us and occasionally came within 'petting' distance ?. 40 minutes and it was time to ascend, Geoff deployed his DSMB which I filled & we headed up. Returning to the pontoon was interesting as it was low-water on springs (and I mean really low water!)
The answer to the changed landscape below was because the borrowed shot was on the stern section, which is separated from the part we normally dive so a 'first' for many of us!
Geoff: 'I have dived the JEL several times, but didn't recognise any of it until we found the stern post, a part of the wreck which is separated from the bow, (which is where our GPS mark was). It was such a good dive we repeated it again on Sunday morning!'
Dive 2: Mewstone
A break for lunch & cylinder refills at In Deep & we boarded a boat now actually floating rather than resting on the bottom and headed initially for the Glen Strathallan but seeing two other boats already there we opted instead round to the left of the Mewstone.
Tim & Neil went in first while Geoff & I soaked up the sun & tried not to cook too much – covered in rubber in 23 degrees & bright sunshine is not a recipe for comfort, but hey, blue skies & calm seas, you can't have it all!
45 minutes later Geoff & I plunged into a very refreshing (10-11°C) sea & descended – to 23.5 metres! – surprising as the last echo sounder we'd seen was 17.5!
The explanation for the discrepancy came when after aligning ourselves NNE towards the Mewstone we set off in average visibility over the sandy bottom with a rocky ridge to our right and almost immediately we picked up speed as the current took us for a magical mystery tour across ridges and down channels while we focused on making sure we knew what was coming & didn't collide with it – exhilarating!
Our companions were the ever present wrasse with the occasional spider & edible crab. Sea cucumbers littered the bottom while tiny starfish clung to the rocky outcrops
Saturday 20th April:
Dive 3: Scylla
During a very nice meal last night at the Foxhound (http://www.foxhoundinn.co.uk/) we did a little dive planning & with Neil leaving us & Colin, Harley, Claire & Luke joining the party it was all change.
Geoff had so much fun driving the boat on Friday he offered to cox which made us an even 6 divers: Colin & I first followed by Tim & Harley and then Claire & Luke.
Colin & I went down the shot, got oriented & then I led the way for Colin's first dive on the Scylla. Reaching the bow we dropped over to the bottom and with visibility at 4-5 metres we could appreciate the full majesty of it. We then worked our way up the side peering in various hatches & admiring the profusion of dead men's fingers.
We then followed the companionway until the exit & then aimed for the stern, along the way seeing a few bunches of red fingers, a more colourful & rarer sight than dead men's fingers.
At the stern we went over, dropped down again & then went back up along the side to the other companionway then ascended to the bridge, swam over the hold and then called it – a real whistle-stop!
Above the sea was still flat calm & Claire & Luke helped us in & then went in themselves to join Tim & Harley
Geoff: 'Saturday morning I was coxing the boat, such good weather called for another trip round to Whitsand Bay, this time diving the Scylla, by all accounts another cracking dive. '
Luke & Claire: 'Whilst waiting to dive the Scylla we saw a couple of enormous Barrel Jellyfish just beneath the surface!'
Dive 4: Glen Strathallan
We shot what we believed to be the wreck & Geoff & I duly tumbled in to take a look. The shot was fine, sitting on a clean sandy bottom in reasonable visibility & nearby there were indeed traces of wreckage. However our luck was not to last & we found no more – only lots of kelp broken by the occasional sandy flat. We initiated a search but to no avail & cancelled after 25 minutes.
Tim & Colin went in with the plan to conduct a search & Claire & Luke shorty after. Tim & Colin's search area seemed to grow exponentially while Claire & Luke seemed to be going in a completely different direction. The end result was that none of them found the boiler- but all enjoyed a good dive of wildlife spotting with the odd wreck fragment.
We spent the evening in the very amenable Foxhound with Geoff, Theresa, Harley & Jess joining us this time
Geoff: '…2 more dives, (Mewstone Ledges & Glen Strathallan ) made it a really good start to the season, let's hope the weather is as kind for the rest of the year.'
Sunday 21st April (Easter Sunday):
Dive 5: James Eagan Layne (bow)
Another day of sunshine & calm seas took us to 2 other dive boats on the site & we again got to borrow a shot, this time on the rest of the ship. Claire & I were last in after Geoff & Luke and Sue & Tamara (all joining us today & Tamara for her first non-quarry dive – she was so excited!). Tim opted for us all to go in & he'd mind the boat so we headed down through very milky visibility that didn't really get any better than 2-3 metres at best.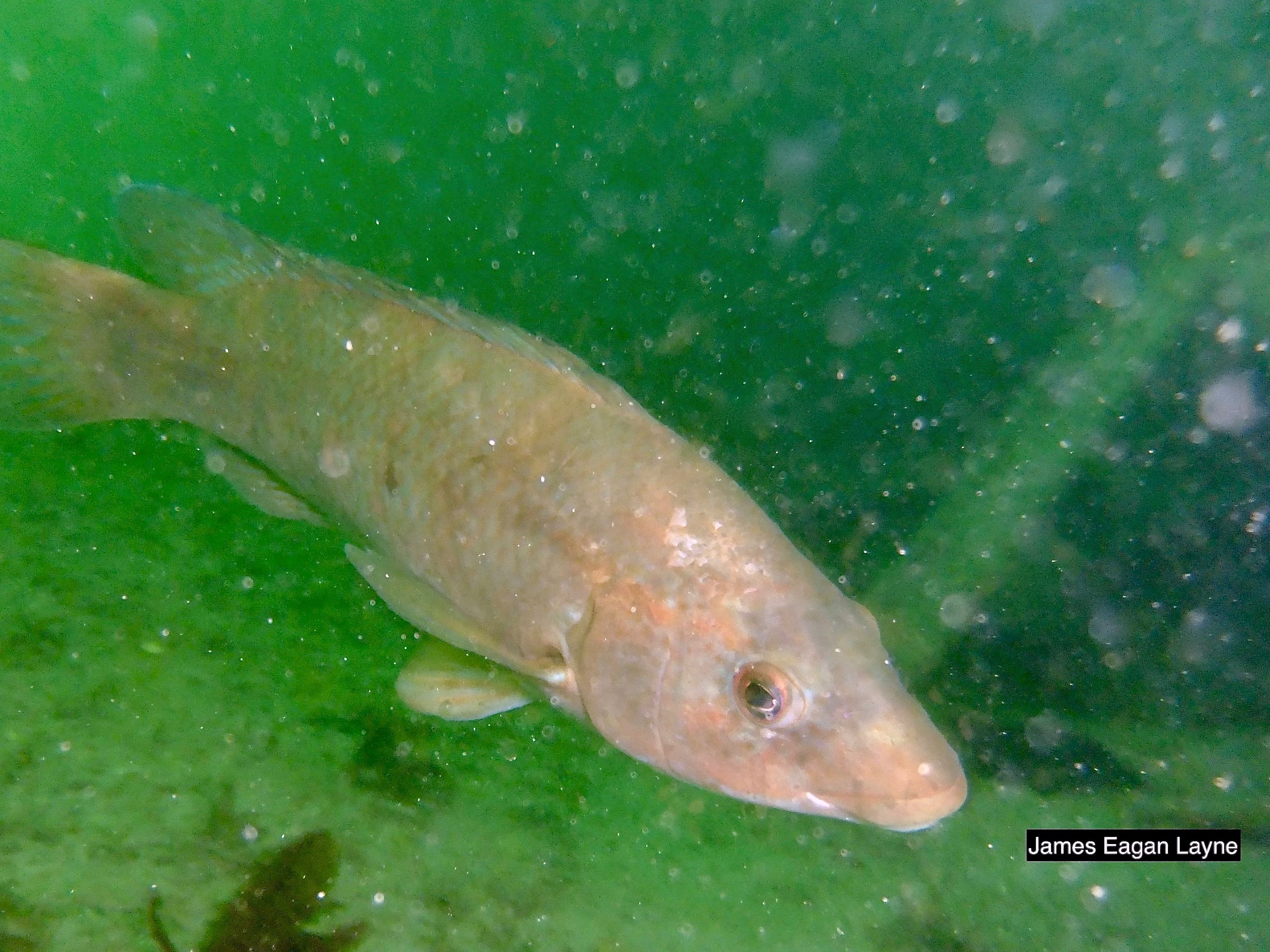 Claire & I swam across the deck & over the edge to the bottom & then along the side, which was covered in dead mans' fingers, with the metal broken by the occasional hatch or missing plate, venturing inside the hull we rummaged around amongst various strange looking items of cargo before I opted to veer off & explore some of the more scattered remains on the sandy sea bed. As with the stern, we came across items I (& likely Claire, who hadn't dived the wreck for many a year) had never seen before. The occasional starfish adorned the rusting metal & wrasse weaved in & out. I must admit in my search for more wreckage across the sea bed there were moments when I thought we'd lost the wreck & then another shadow would loom ahead & we'd be back amongst it – the JEL is a seriously scattered wreck!  35 minutes in & it was time to call it so we headed up.
Luke & Claire: '

great dives on the bow section of the James Egan Lane on Easter Sunday. Saw large amounts of wildlife on the wreck, including cuckoo wrasse, spider crabs and shrimp. It was a nice return for Claire to the site of her first wreck dive and she even briefly glimpsed a dogfish before it quickly fled'

Sue: '

Tamara & I had two lovely dives on Easter Sunday, just down for the day.  It was Tamara's first sea diving ever and first time out on a RHIB.  She was very excited. The first dive was on the James Eagan Layne and the second on the Fort just inside the Breakwater.  Every now and again during the dives I could hear Tamara exclaim when seeing something for the first time.

The JEL seemed to be covered in tiny starfish, and there were some large pollack in the shelter of the wreck along with the usual bib and several kinds of wrasse. Later we had to keep explaining to Tamara that it's not usually like this!!  (The sea was flat and the sun was shining!)
Dive 6: The Fort
Luke & Claire: 'an unexpectedly great last dive on the Breakwater Fort, we saw a huge lobster, prawns, a very large spider crab and a conger eel all lurking under the rubble.'
Sue & Tamara: 'we descended by the fort to begin the second dive.  The visibility was not very good, but there is so much life down there.  These are some of the things we observed: Fan worms, Tompot blenny, small lobster, either ling or conger eel in hiding along with lots of common prawns, an angler fish who looked too cold to bother moving, and the hugest, scariest Spiny spider crab I've ever seen.  I managed to photograph a meek small one.'
All of these trips use fuel & we had been used to using the fuel barge at Queen Anne's Battery but that is no more which added some inconvenience but with a happy ending as Tim relates…
Tim: 'sad news that the fuel barge at Queen Anne's Battery has been condemned and is no more meaning having to pull the boat out, make it ready it for the road and refuel it at Morrisons and then take it on to the campsite only to have do drive it back to Mount Batten the following morning.

After a few enquiries and a pleasant reccie past Drake's Island and a short trip up the Tamar we found on-water fuel is available at the Mayflower Marina.

It's less convenient than QAB was because of the distance but much more flexible in that unlike QAB it's available 24/7. They can be contacted on VHF channel 80.'
Summary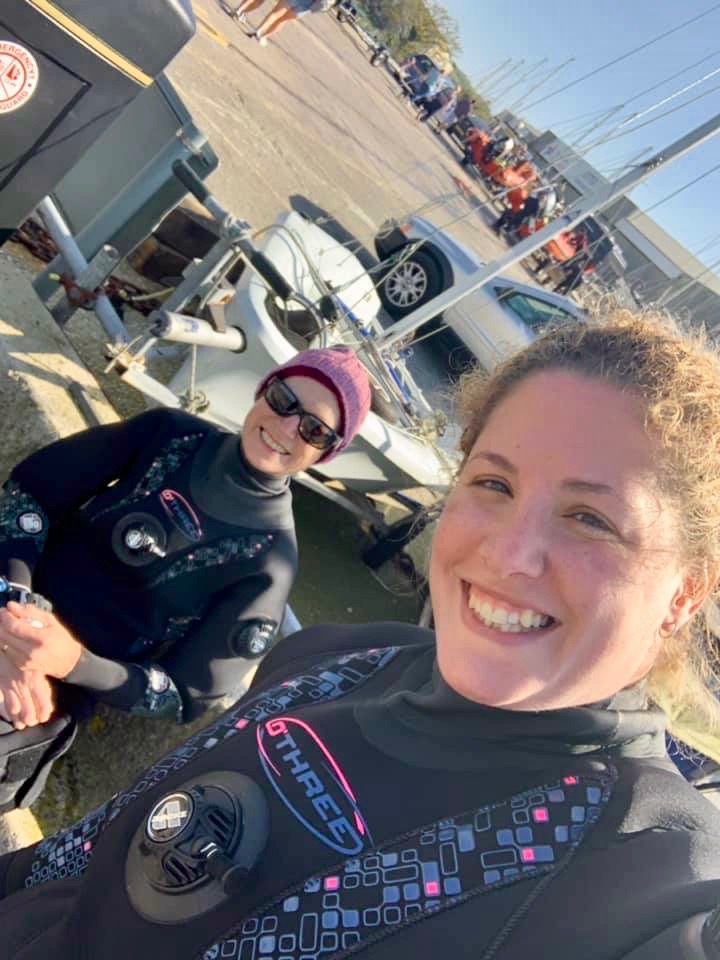 Tamara: 'First sea dive!!!! It was the most amazing experience I've ever had!!!! Can't wait to repeat it!!! Thank you very much to all that were involved, especially to Tim and Claire who made such an amazing weekend possible!!! And thanks to Susan for being my buddy again! It was so much fun!!!'
Geoff: 'Thanks to Tim & Claire for the excellent organization, all worked a treat. What a great first diving weekend of 2019, flat calm seas, great diving & good company to go with it, what more could you ask for?'
Luke & Claire: 'Highlights from me and Claire on Easter diving in Plymouth… very calm sea conditions made for great diving, viz poor due to algal bloom, but overall well worth it!'
Sue: 'a great day out'
Tim: 'A great first outing of the year with the club RHIB. Lovely weather and great company'
Kevin: 'It's all been said except to highlight Geoff's newly acquired skill at breaking everything he touched 🙂 boat dipstick, boat seat, the oar (twice, though we didn't see it happen!) and even I might credit him with the fuel barge 😉
And a final few words from everyone's favourite Diving Officer:-
Tim: 'I'm delighted to report a highly successful weekend of diving and first RHIB diving trip of the year.In all the time I've been diving I can't remember better weather at Easter.' Some of the highlight firsts for this trip included:
1st club boat dive for Harley and Tamara.
1st dive on the Scylla for Claire, Luke and Harley.
1st dive on the James Eagan Layne for Luke and Tamara.
1st (and 2nd) sea dive for Tamara. She was absolutely ecstatic to have seen sea life at last!
Thanks to Rob and Pete for getting the boat and trailer ready. Thanks to Sue for the delicious cake and ginger nuts.
Thanks to the coxes and thanks
 to my assistant Dive Manager Claire, for her help in organising this event to round off her Dive Leader training.
It was nice to encounter a few past members over the weekend. Mike and Sheila on the campsite in their van and Simon and Jo enjoying the sea out in their kayaks.
The year is off to a great start!