by Tim.
February 11th-26th: On a cold, wet, windy day in February, we set off to Gatwick on the first leg of our long awaited holiday in the Maldives. At the airport we were to meet up with the rest of the party, some 30+ in total from the Bristol area. For this Hayes & Jarvis holiday had been arranged through the proprietor of a local dive shop – Chris Charles of Extreme Marine. 
There were 15 from our club – 11 divers and 4 non divers. Some of the group knew one another from a previous holiday to Cuba, some had met briefly for one evening in a pub for a pre departure get together and briefing, some had never met before. So off we all set on a very long journey to our island in paradise – we hoped.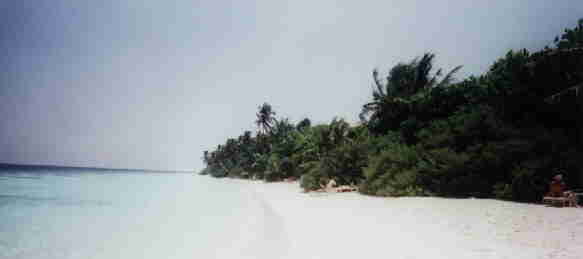 Following our arrival at Male (pronounced Mah-lay – the capital of the Maldives), after a very long wait, we boarded our sea plane – great fun – you should try it if you haven't already.
For most I think it's fair to say from that point on the holiday exceeded all expectations. The island itself was covered in lush green vegetation, ringed by fine off-white sandy beaches lapped by an azure blue lagoon teaming with life with the coral reef and drop off beyond. Quite honestly it was just like something straight out of a Bounty Bar advert – a true tropical paradise.
The more than adequate clean, air conditioned accommodation, spaced out around the perimeter of the island was cleverly tucked away behind bushes such that on approach from the sea or sky, but for the 2 jetties, the island looked uninhabited. The food (and drink!) was plentiful and excellent. The hotel staff very friendly and the service impeccable.
What about the diving I hear you say? The diving was,…. was…, oh, words fail me – brilliant, phenomenal, I want to be back there now! It ranged from very gentle ambles along beautiful, picturesque reefs, (or tila's as they are locally known) to the extreme of being pushed about in very exciting and exhilarating fast strong currents from all, and I mean all directions, and oh yes……. whirlpools!
Abundant life – big, very big! and small – some with teeth! Okay, I admit it, yes there was coral bleaching, and it probably is nothing like it used to be, but it's still pretty damned good!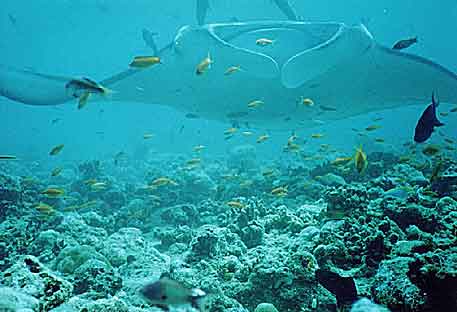 See what I mean? I didn't take this photo, but I was diving for 80 minutes budied with the lady who did. Nice one Jo!
Because we were such a large group we were assigned our own boat – The English Boat – as it was to be known, with our own very dedicated dive guide, Jens Kruger. Though it was nominally ours we didn't have to go on the English Boat because if you fancied a different dive site, perhaps without whirlpools, there were always some other boats you could join going to other places. We even let the odd stranger join us too sometimes.
In addition to the fabulous surroundings, what made the diving such an overall success was the combination of the skill and local knowledge of the boat crew with the dedication, expert knowledge and enthusiasm of our excellent dive guide – Jens.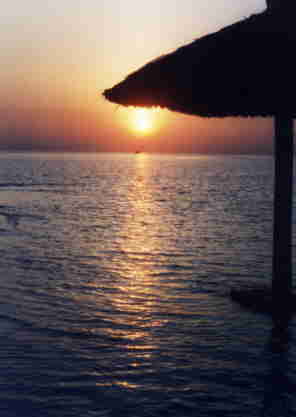 When you weren't diving from the boat you could take advantage of the house reef. Once your gear was ready and assembled the 'tank boys' would wheelbarrow it to your chosen point of entry. When your dive was over you left your 'empties' at the exit point, walked back to the dive centre and the tank boys would go and barrow them back – talk about spoilt!
The only down side, there always has to be a down side, was our group did seem to have more than our fair share of ear infections. One of our number tripped and cracked a rib or two. The net effect was that diving for a few in our party was brought to a very disappointing premature end. 
As for the non divers in our group, 4 from our club, 3 of which had never even snorkeled in the sea before. Well….. they all soon learned to snorkel and went on to snorkel most days. 3 even booked themselves on a try dive!  Now, back in the UK, 2 are actually learning to dive! A very expensive holiday that turned out to be – for some!
Hopefully this report captures some very happy memories for those of us lucky enough to go and be a useful source of material for those looking for ideas for a potentially brilliant holiday in the future.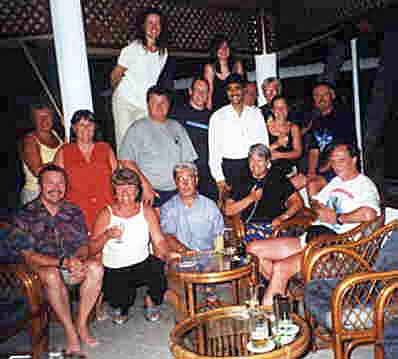 Last updated: 21-April-2001.  Copyright © 2001 Bristol Aerospace Sub Aqua Club.