by Sally Hall.
My husband (Terry) and I have always done things together but when he got involved with diving I firmly drew the line and decided enough is enough he can do this on his own.  He joined the local club and started going away on diving weekends and day trips, I didn't mind I was quite happy spending the time on my own with our 7 year old daughter.  Gradually he started to coax me into going to non-diving activities with the club.  Then he informed me we were going away for a weekend in Cornwall in a tent (yuk) with strange people.  So begrudgingly I packed up the car ( Emily was over the moon and so excited) I sulked all the way down.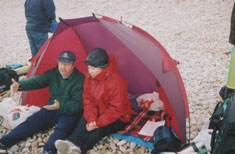 We arrived at the site welcomed by a big fella holding out a bottle of lager. (Big Harry Diving Officer)  My daughter and I were removed from the car and taken to a caravan and introduced to some of the other ladies, diving and non-diving.  Our tent was put up we were loaned some airbeds, we were well looked after.  The weekend was lovely we had a Bar-Bi every night and we were really made welcome and Emily was given enough sweets she could have opened her own sweet shop.  I had just come back from a holiday in Menorca and had learnt to snorkel and it had got me interested in underwater life.  As I sat on the beach watching them go off in the dive boat I kept thinking I'm missing out on something good here.  So I decided then that I might try a try-dive just to make sure that I really didn't want to do it.

I had my first try dive with Harry and I was absolutely terrified but I had no worries he was very kind and didn't make me do anything I didn't want to do.  After that I was passed over to Tim (Training officer) and Carol (Instructor) to commence my pool training.  Now the fun started!  These two people had to get me prepared for my first open water dive.  With their encouragement and patience, after several weeks of pool training I was informed I was ready for open water!
We arrived in December at Chesil cove it was freezing my nose was running and I kept thinking if I'm cold now what on earth is it going to be like in the sea.
Tim had kindly brought along a tent so we could shelter.  I must admit the rest is a blur I can remember getting changed and Carol assisting me with my fins and gloves.  Before I knew it we had done our buddy checks and we were in the water OK signals and down we went.  WOW! The visibility was good and the first thing I saw was a small group of fish (wrasse I think) I didn't feel cold, scared, or any of the things I thought I would, just excited and wanting to see more.  We finned around and went over a reef, we found edible crab, a lovely blue lobster, prawns, small cluster of fish under the rocks, sea sponge and anonomes, and we also found some bits of wreck.  We were down for 32 minutes before I signaled that I was getting cold. We returned to the beach where Terry was waiting with hot drinks.
I can definitely say I'm hooked I've still got a long way to go before I complete my training but with the help of my instructors Tim and Carol I really don't think I can fail.  They made every effort to ensure my first dive was enjoyable and they succeeded!  So thanks to them and not forgetting Harry who gently coaxed me and gave me my first experience at diving.
Page created by Paul Morris
Last updated on: 08-December-2002    Copyright © 2002 Bristol Aerospace Sub-Aqua Club