by Bob.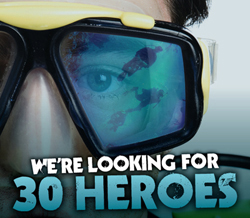 15th July, 2010 : A message from BSAC: Is there someone in your club who is going the extra mile…and making a positive impact on your branch diving this summer?
Then why not nominate them for BSAC's Branch Volunteer of the Year 2010 – they could win a Suunto D6 for their efforts!  You can nominate online now at www.bsac.com/volunteer2010
The BSAC Branch Volunteer of the Year award aims to recognise the significant and invaluable contribution our many volunteers make to both BSAC and branch diving. Sponsored by Suunto, we have a D6 computer, worth £575, to award each of our 30 Volunteers of the Year 2010, to be selected from around the regions.
In addition to the regional winners, there will also be an overall Volunteer of the Year 2010 selected, who will be awarded the prestigious Jonathan Crusher Award.
We are looking for members who have made an exceptional contribution to your club. There are a wide variety of reasons why a member is nominated but they could include: going beyond the call of duty to make things happen, outstanding service and dedication to the branch or fundraising, training, recruiting of new members.
ANY branch member can nominate a fellow member for Volunteer of the Year.
To nominate your 'unsung hero' simply complete the online nomination form. So with the dive season now upon us, don't delay and nominate the person who is making a real and lasting difference to your branch.
For further information, to read more about last year's winners and nominators and to nominate your own club's unsung hero, go to www.bsac.com/volunteer2010