by Kevin.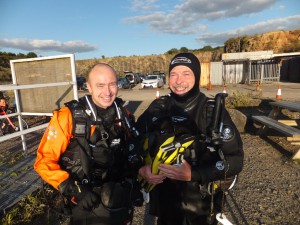 Thursday 30th July : Friday is a blue moon folks, second full moon this month so to celebrate this and also Bobs' return we had an evening of diving and BBQ-ing at Cromhall – to be honest any excuse would do and these seemed pretty usable!
Arriving shortly after 5:30 we congregated at the deep end (from where we would be diving) and quickly got kitted up & otherwise set up.
Folks brought their own food & drink, while Sue & Tim brought a couple of disposable BBQs to share.
After the diving we tucked into the food & drink & settled back to enjoy the sunshine!
http://www.cromhall.com/cromhall/cromhall-diving-centre