by Cyril.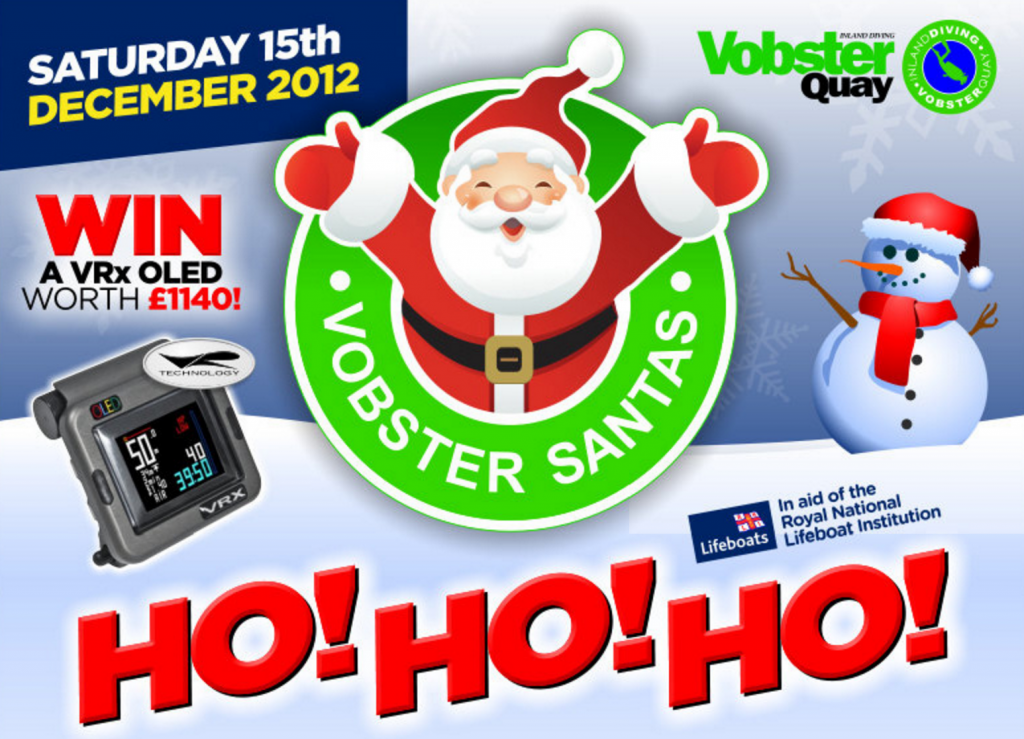 13th November, 2012 : A number of members of our club did this last year, who's up for it this year?
The Santa suits are on sale at The Range @ £4.99 (I think). If anyone would like to join us you are welcome and I can pick up the suits for you, but please let me know as soon as possible.
---
Yes folks, it's that time of year – it's time to dig out your Santa suit and get involved in the biggest and best festive charity Santa dive this side of Lapland!
Last year's Vobster Santas was a phenomenal success – not only did we smash the world record for the most Santa divers in the water at once – the record now stands at 161 divers! – but we more than DOUBLED our fundraising target, raking in over £10,000 for the RNLI's Lifejacket Appeal. Can we beat it? Of course we can – but we need your help! Once again, we're aiming to raise money for the RNLI by getting as many sponsored divers dressed in their finest Santa outfits onsite and in the water as we can. Each and every Santa diver will be invited to seek sponsorship for their endeavours through either individual sponsorship or via the Vobster Santas JustGiving page. Get involved today

FABULOUS DIVING PRIZES TO BE WON!
We'll be raising additional money for the RNLI by raffling off some great prizes at Vobster Santas – every sponsored Diving Santa that attends the event will automatically be entered into the prize draw but additional tickets are available to buy from the Vobster Shop for just £1.00! Prizes so far include…
VRx TRIMIX DIVE COMPUTER
SANTI WARM VEST
DPV TRAINING DAY
MIFLEX GOODY BAG
VOBSTER MEMBERSHIPS
CCR REBREATHER TRY DIVE
PLUS MANY MORE!