Over 4 years into this diving malarkey & not been to a dive show – what's wrong with me? Perhaps that's the reason I still have some disposable income? Seriously though, with any kit you could wish for available online along with an endless selection of dive trip organisers who needs to physically go to a dive show? Time to find out!
Our target was the October Dive show at Birminghams' NEC: an easy 90 minute drive from our club base in Bristol. Accompanied by 2 veterans of such events we duly entered the lions den.
The hall hosting the show was a warren (in a good way) of aisles with vendor stands presenting their wares in a variety of forms from traditional counter displays to interactive Virtual Reality experiences, 'pick & mix' trays of every accessory you could think of & racks of try before you buy offerings.
There were focused areas for various geographies: Philippines, Thailand, Indonesia etc as well as tourist board representatives from specific locations – I had a very enjoyable chat with the Malta rep on how much I'd enjoyed my trip a year or so back. A number of operators were doing special deals for dive clubs as well as competitions to win a stay at their resort – full disclosure, I won a trip to Scandi Divers resort in the Philippines- how lucky am I?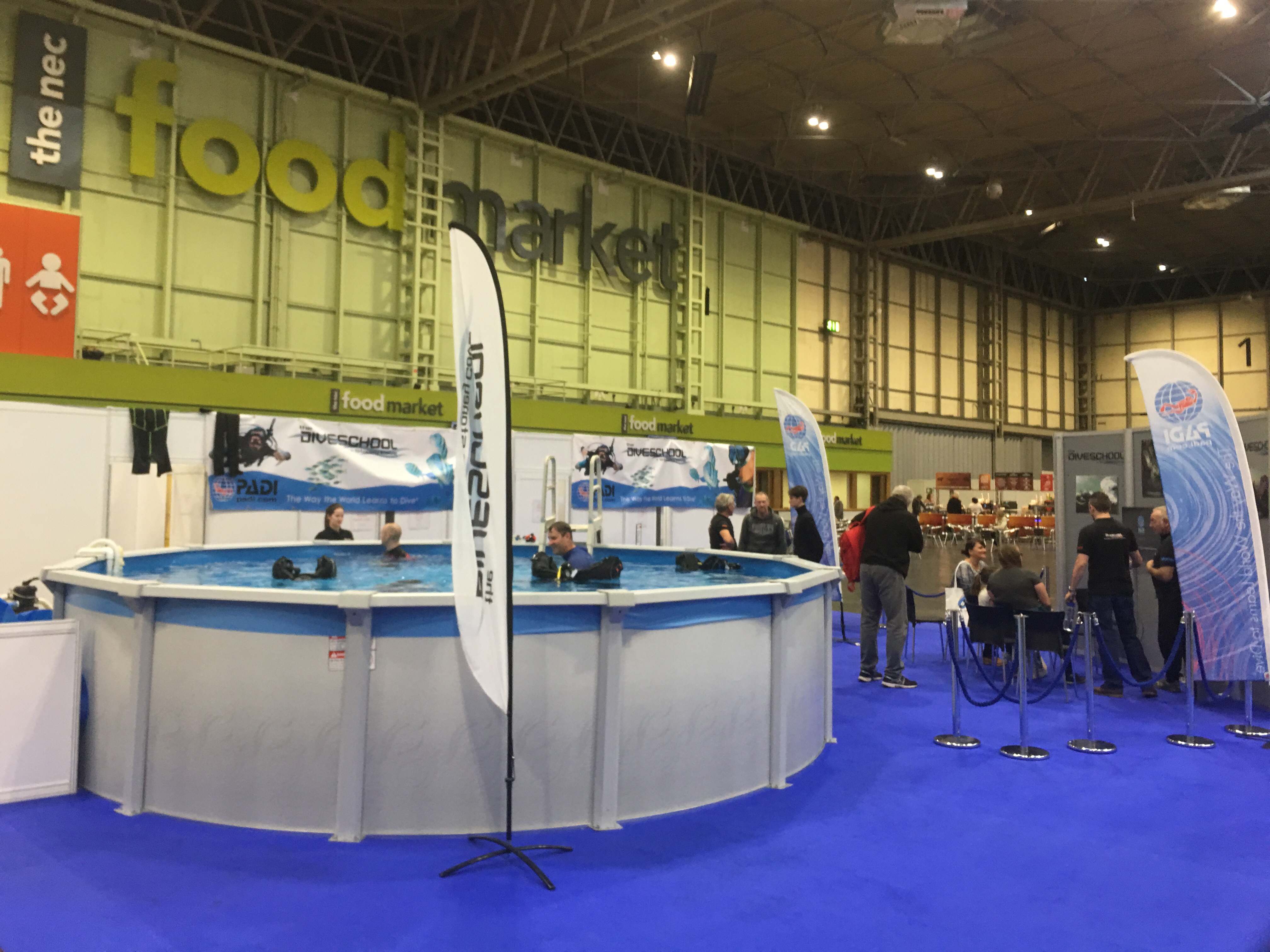 We discovered the pools offering the chance to try out the scuba experience as well as various items of kit; these weren't for us but plenty of people were taking up the opportunity. We meanwhile took the weight off for a couple of presentations at 3 separate stages on a couple of subjects from a wide range including photography, safety, trip planning, trip reports and other diving related subjects – with so many offerings it was quite an exercise to plan what to see.
There was also the chance of course to accumulate a variety of free memorabilia from brochures for tempting get away from it all holidays to a selection of pens, magnets, postcards, key rings & back issues of a variety of magazines.
On our recon tour (identifying likely candidates for a more thorough visit on a second pass – we are an organised bunch !) we ran into Gary from South West Diving here to drum up some business for his boat TopGun. We would be down with him in a few weeks for the clubs' traditional Winter Warmer weekend so we took the chance for a few last minute discussions – you can check out the report of that trip here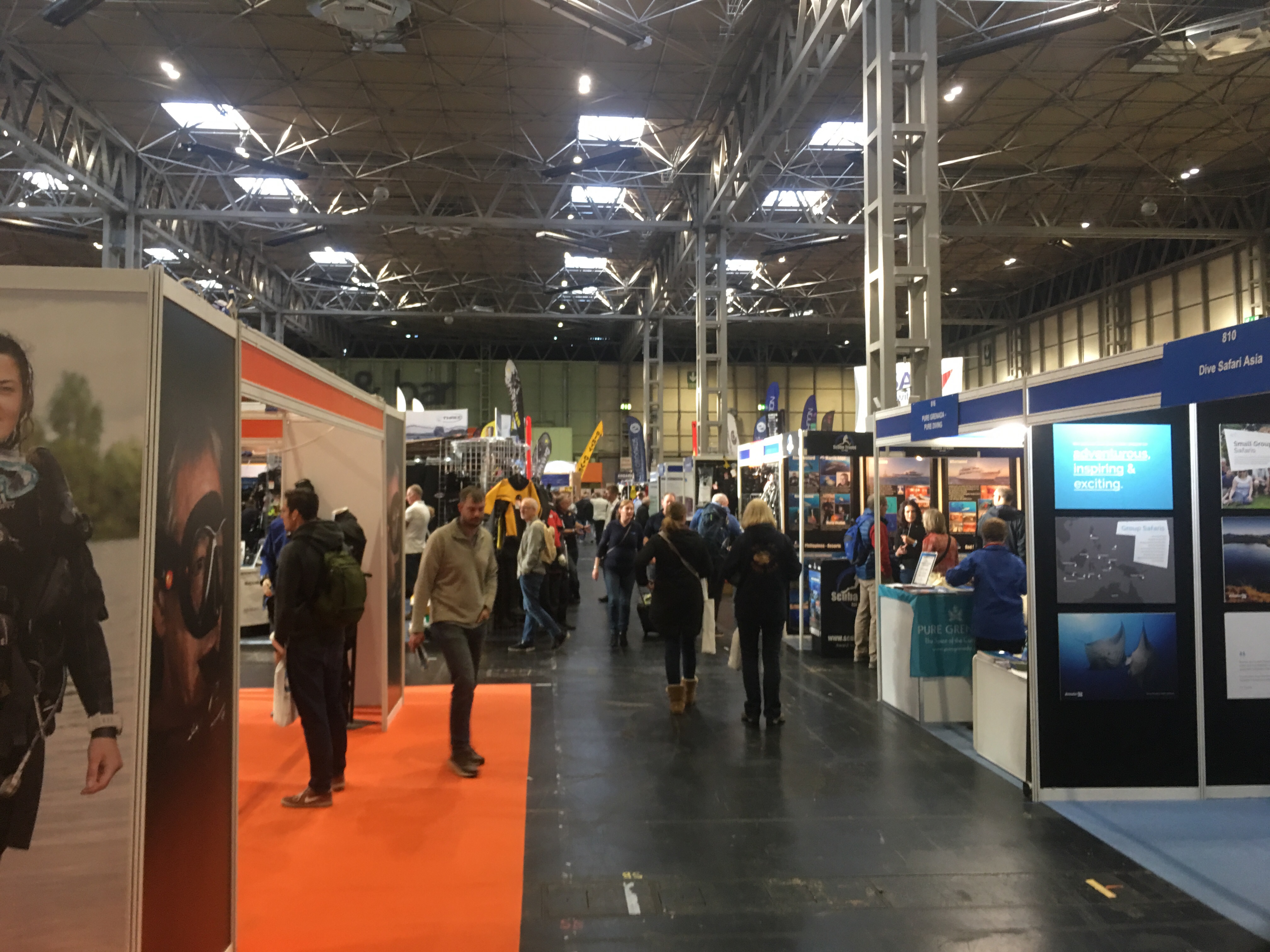 After several hours of browsing & chatting our feet felt in need of a rest so we grabbed a table & out came the packed lunches – food is also available from a wide variety of restaurants so that is an option.
Duly refreshed we kicked off the focused part of our trip, exploring in more detail the specific vendors we had spotted in our first pass to pick up a few items, Steve tried on gloves until he found ones that were 'just right' – a Goldilocks moment! Meanwhile Chris was tracking down a replacement power inflator & what do you know he found one – not surprising given the sheer variety of kit on offer. My needs were somewhat more modest, actually I didn't have any, I was here for the experience. Despite which, the opportunity to pick up a variety of clips, valve covers & straps could not be ignored!
So, why go to a dive show? It's the same reason you go diving with a club or friends – the human element. The chance to share thoughts, ideas & experiences with like minded individuals & getting immediate feedback from their responses & actions not abstracted away by an anonymising digital filter. It's also the same reason we try to support our Local Dive Shop, everyone here is here for the same basic reason, we're part of a very small group with a passion for life and experiences & a passion worth celebrating even more so now there is increasing global recognition this watery world we all love so dearly is in danger.
Would I go again? Absolutely! See you next year!