If you'd like more information about try dives, training or diving in general please contact us at info@aerodivers.net and we will arrange for an appropriate member of the club to come back to you as soon as possible. (if you don't get a response within a few days please check your spam folder as replies have been known to end up there!)
12 months Bristol Aerospace Sub Aqua Club (or 'Aerodivers' as we are known) membership* includes:
Access to economical UK diving from our two club boats
Subsidised access to club pool facilities (Badminton school) on Monday nights for swimming
12 months membership of the British Sub-Aqua Club (BSAC), the biggest diving club in the world – for more details on the benefits of joining BSAC see here

.

A 12 month subscription to the Official BSAC monthly magazine 'SCUBA' (more than 100 pages & all colour)
Membership of the BAWA Health & Leisure Club with access to a variety of facilities – see here
*Note: BSAC & BAWA fees are now split out from club membership & paid direct to the respective organisations.
Once you join we can organise your training so you can fully appreciate the wonders under the surface!  We supplement our instructors via a partnership with a certified diver training company, DM Scuba who organise training sessions local to Bristol & Swindon
Entry-level training to BSAC Ocean Diver which is roughly equivalent to a PADI Open Water qualification with a maximum depth of 20 metres (details on the BSAC site here) typically costs around £460 which includes hire of all equipment & provision of breathing air (entry to commercial diving premises is additional – usually around £15-£20)
After you've dropped us a line you are welcome to come along and meet us
Pool Sessions: (details right) Go for a swim, try out some new kit, check out old kit, undertake training, catch up with other members or give Octopush a go! Note: Don't go down Cote Lane, the drive into Badminton School is about a car length from Westbury Road.
Club Meetings: (details right) Share a story or two of days past or plan those to come, catch up on gossip or kick back with a drink for a general chat
---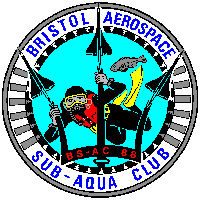 Our club has an elected committee, which stands for one year from the AGM – usually held late October or early November.
The committee can consist of up to ten posts, seven elected by the club membership, the others co-opted by elected personnel; Training Officer by the Diving Officer, Advanced Diving Representative by the Dive Leaders and Advanced Divers in the branch and Membership Secretary by the Treasurer.
The committee is responsible for the smooth running of club affairs and finances and meets on the third Wednesday of each month.
Club members are welcome to attend and be part of these meetings but only committee members can vote.
Bristol Aerodivers BSAC – 2020 Committee

Chairman
Peter Davies
Secretary
Chris Lewis
Diving Officer
Kevin Green
Training Officer
Sue Rosser/Tim Clouter
Treasurer
Neil Brent
Boat Care Officer
Rob Boyes
Equipment Officer
Geoff Wilkinson
Membership Secretary
Bob Abbott
Social Secretary
Hazel Boyes
A little history of our club
Formation: Circa 1959 by and for employees of the local aerospace industries in Bristol.; we are now open to all.
Diving: All year round (weather permitting) in the UK (& exotic warmer places!)
Membership: Our oldest active member is seventy something years young, and club membership can start at 14 if accompanied by a responsible adult, or 18 independently.
Activities: We aim to provide a good social atmosphere, where non-divers can join in. Events range from an annual Christmas meal, to pool Fun Nights, BBQs and smaller gatherings, such as photo evenings & talks.