A party of 7 divers plus an almost equivalent number of partners, hangers on etc. (and a dog) made the annual southerly pilgrimage to the Lizard peninsula in Cornwall for what we hoped would be an extra long weekend of diving.
Many had opted for static caravans this year while Neil & Kath and Colin & Jo brought their trusty vans & Vicky & I took our usual spot with Nettie our petite vintage caravan; only Steve braved the elements in a tent – what a hero 🙂
Avoiding the Bank Holiday weekend our time on the campsite (Little Trevothan) was very relaxed with it being the tail end of the season so nothing was too busy and the same went for the trip down. In fact this pretty much held true for the visits to various beaches, pubs & trips out which was really nice.
What wasn't so nice was the weather with very strong southerly winds forecast to get stronger as the weekend continued, though this was tempered by some lovely sunshine & marvellously clear skies at night – if you haven't seen the night sky away from the light pollution of cities you need to make a point to do so – the sheer majesty is overwhelming.
The diving? ah yes, well our first day (Saturday) the skipper of the Celtic Kitten, the ever reliable Dave, took us out towards the Manacles for a look-see but it was decidedly rough getting colder & the wind picking up
Instead we opted for Pancra Head which is a reef that forms a sort of horseshoe around Porthkerris
Dropped in near the apex we went down through the kelp & then east until we hit the reef and then had our choice which arm to explore – north or south and what depth we wished. During the dive through various gulleys & swim throughs we variously came across many many sea fans and a big spider crab and many cuckoo wrasse, as usual very interested in what we were doing there. Steve spotted lots of little crayfish and along with Tim & Geoff more spider crabs and octopuses!
When we came up things were quite rough but Dave expertly picked us & the rest up
Time for a surface interval and a bite to eat- the food shack did me a lovely halloumi burger and Tim a great vegan platter.
My other half returned with our Welsh Sheepdog, Bounty who promptly introduced himself so everyone at the dive centre got to know his name and he had Steve wrapped round one paw playing puddle splashing and Geoff wrapped round the other playing with him at the shoreline!
After a brief rain shower to wake us from our luncheon food comas & freshen us up we headed out again, this time to the north for a root around the Volnay.
This is a wreck most of us have dived a number of times before but not for a few years & I'd forgotten how much of her there is to explore. Visibility wasn't bad & we spent a good 45 minutes poking around.
Dave had shot the boilers so we started there with those monstrosities, swimming right round them before heading south where Dave had indicated there was more wreckage, and there certainly was, often several metres proud of the seabed.
We spotted a small spider crab and t
here was a huge conger eel in a pipe – Geoff found the head & Tim considered tickling the tail to see what happened (but sensibly refrained). Elsewhere there were more crayfish and plenty of male & female Cuckoo Wrasse
Starting to run out of no deco time we headed up and you could certainly tell the weather was on the turn.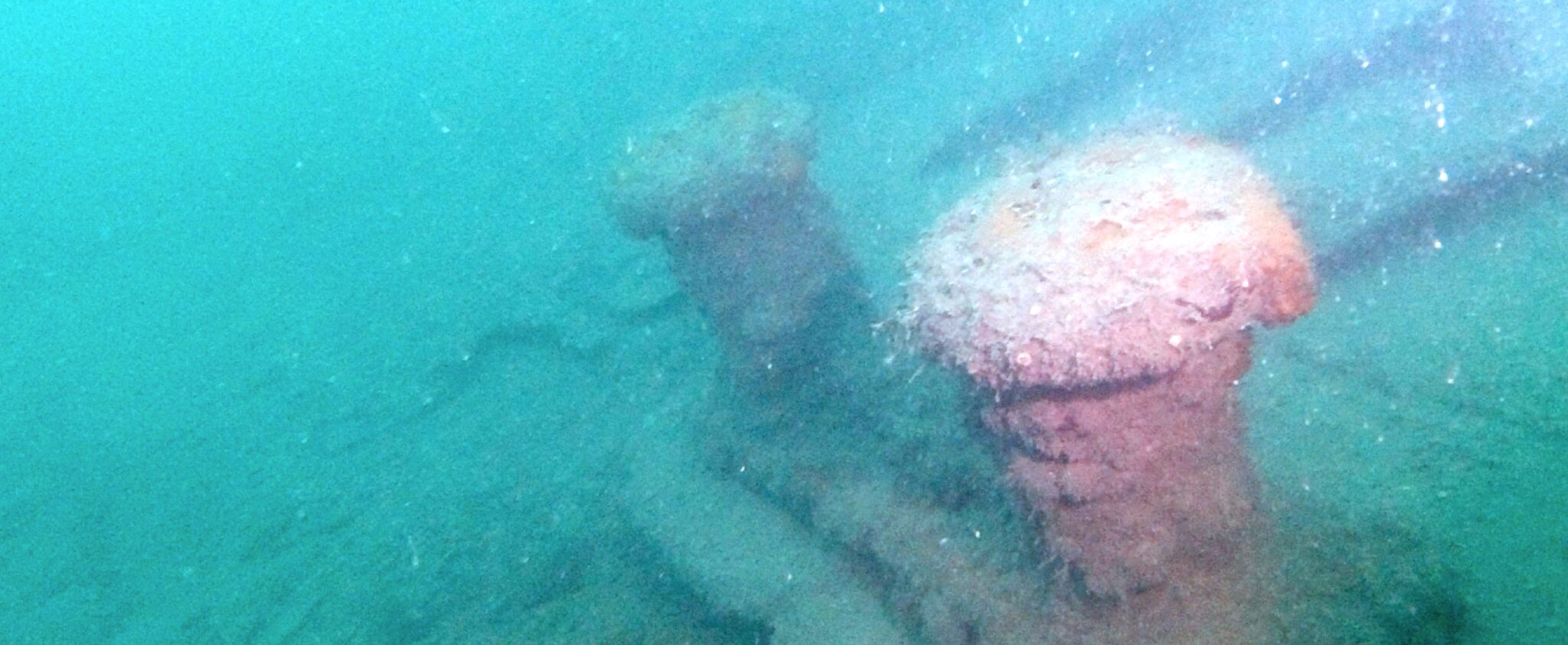 A final group was going out after we came in & we headed off to clean up & grab a bite at the campsite.
Sunday looked doubtful & indeed Porthkerris Divers called it later to say the boat had been damaged & the weather wasn't conducive to safe diving so we amused ourselves with various beaches etc. & then a nice meal in the Paris Hotel on the evening.
Porthkerris Divers called early Monday morning to say that was off too.
Hoping for a possible shore dive – Drawna rocks is amazing (see last years report (& needing to collect our cylinders a few of us headed there anyway) but the sea state meant there was no way that was happening either 🙁
With worsening weather most of us headed back home, though a few persisted for the week.
A disappointing trip, particularly after last years trip hit the weather barrier & only got in one dive – we at least doubled that but the aspiration & do some dives further afield wasn't to be – there is always next year
Thank you to the bumper turnout who helped to make the dives we did do & the evening socials so enjoyable & to Porthkerris Divers for hosting us. We will be back!