Sixty miles off the west coast of Wales in the middle of the Irish Sea sits the Isle of Man – home to 85,000 people & famous for its annual cross-country motorcycle race, the TT; more importantly due to its rugged coastlines & prevailing currents it & its southern companion – the Calf of Man, are also home to some of the best that UK diving has to offer.
With this in mind it is all the more surprising that only two operators run diving trips & we were lucky enough to get a week with one of them: Mike Keggans' Isle of Man Diving Charters; a family run operation for nearly 25 years.
The island is reachable by plane (a small airport sits just south of Douglas (6 miles)) or more cost-effectively (for weight-conscious divers) by ferry, operated by the Steam Packet Company out of Heysham & Liverpool to the capital, Douglas.
Our party variously took the day or the stupid o'clock (2:15am) ferry (Heysham to Douglas) which takes around 3 ¾ hours & then a 30 minute drive down to the accommodation, between Port Erin & Port St. Mary – the house sleeps 11 (details here: http://www.isleofmandivingcharters.com/about/accommodation/ )
But the diving? What about the diving? You said it was some of the best! And it was!
With the combination of sunshine, a reasonable 20 degree average temperature & flat calm seas all we needed was a knowledgeable skipper & a good boat & Mike & his son Tom ably filled those roles and their boat, the Kirree Varrey (Manx for Storm Petrel) a very perky 12 metre twin turbo, twin prop vessel with lift & plenty of kitting up room.
I asked the members of the party to write a little something about their favourite parts of the trip & so I present them here (in mostly unexpurgated (😊 ) form, but first a brief list of the sites we visited
Monday 8th August:
Creg y Jaghee 20m, 60 minutes – Our first dive of the week & a great start!
The Burroo 20m, 50 minutes – Above water there's the drinking dragon, below every rock is bursting with colourful life
Tuesday 9th August
Sugarloaf Caves 15m, 55 minutes – An impressive cave extending a significant distance into the cliff followed by a wall & another passage.
SS Afton 25m, 34 minutes – Huge wreck from 1892
Wednesday 10th August
The Stack 22m, 45 minutes – Wow!
Thracian 33m, 26 minutes – Impressive wreck but the depth cheated us of a longer explore – must come back!
Thursday 11th August
Amulty 22m, 62 minutes – A lovely shallow bay, kelp covered slopes dropping to larger anemone coated boulders
Clan McMaster 23m, 64 minutes – impressive wreck with a few seals then an exciting drift across fields of dead mans' fingers & many more seals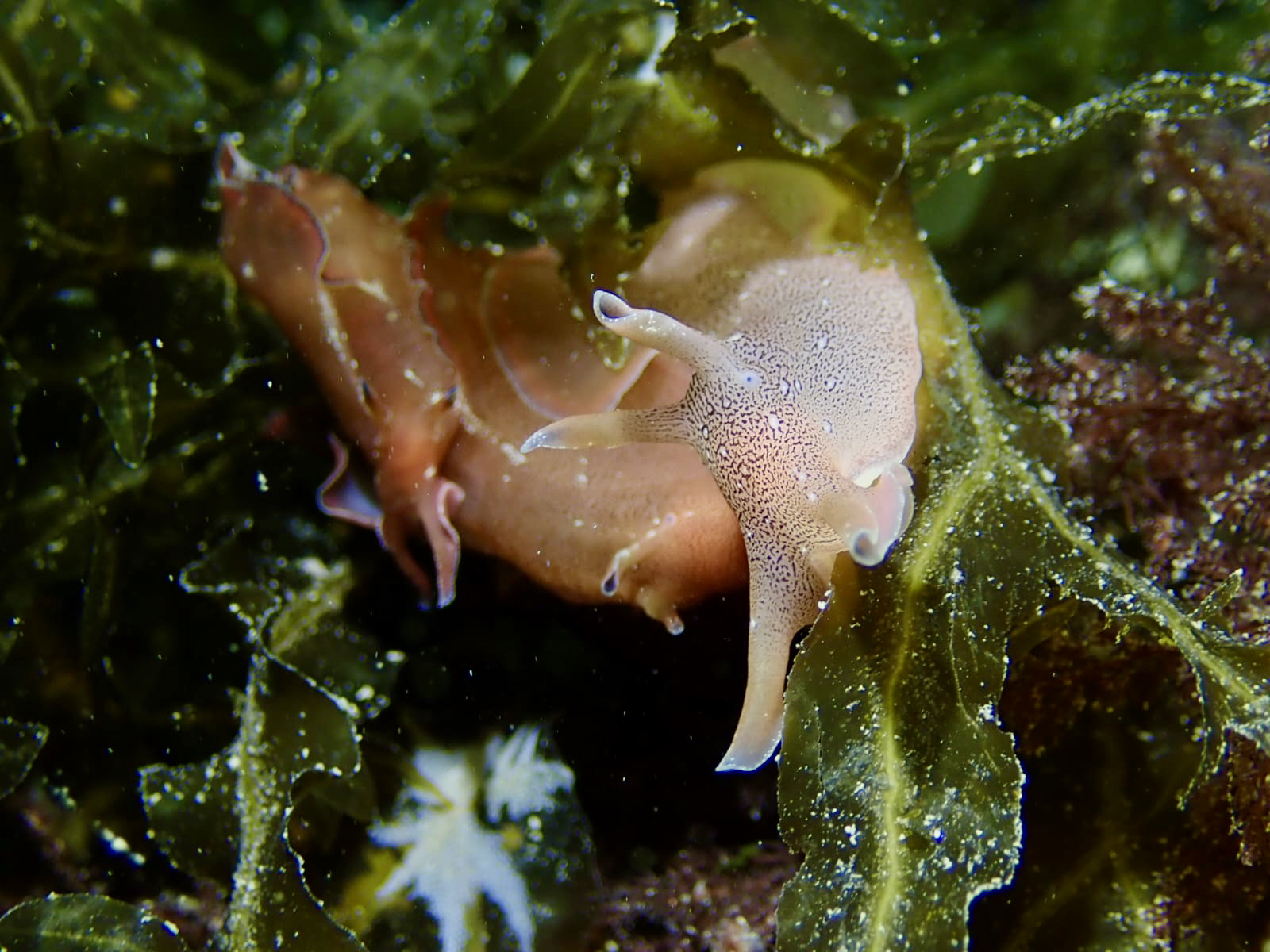 Friday 12th August
Kinoe ny Halby 18m, 60 minutes – similar to The Stack & Amulty: kelp with many gulleys, descending to large boulders & a light drift
And now those thoughts
From Sue:-
'It was wonderful to return to the Isle of Man at last, for a few days diving with Mike Keggan. The weather was really beautiful and the water like a mirror all week, so no need for sea sickness tablets! The viz was great and the dive sites were as pretty and teeming with creatures large and small, as always. I particularly enjoyed the dive into the Sugar Loaf cave which was such a peaceful and quiet place, feeling so majestic when looking upwards to the roof, and although it looked fairly barren on first entering, it was full of life just waiting to be discovered. I'm looking forward to my next visit!'
From Tim:-
'I love diving in the IOM as evident by the fact that this is the 4th time I've returned. This time was by far the best weather – perfect conditions every day. It's going to be a hard one to beat!'
'Some of the dives I've inevitably done before but others, previously unavailable were opened up due to the conditions'
'I did enjoy Sugar Loaf Cave – we penetrated much further than on the previous trip but sadly no diving sea birds as last time.'
'I thoroughly enjoyed the Thracian with its huge anchor & chain but the short time (due to air & deco limits) was a little frustrating.'
'One thing that does really stand out was the pure joy & enthusiasm of one of our party, Rob, who has never joined us on an expedition before , as he recounted the many things he saw after each dive. .He possibly did more dives on this trip than he has managed in the last few years. There's a word for it: 'confelicity', getting pleasure from another's' happiness'
'Great diving, great company, perfect weather, lovely food & drink results in one very contented diver.
From Geoff:-
'What a fantastic return trip to the Isle of Man, (for the fourth time) after being delayed for 2 years due to the dreaded Covid – It certainly was well worth the wait; flat calm sea conditions, cloudless skies & pleasantly warm temperatures.'
'Due to these ideal conditions we were able to dive 3 sites that we hadn't been able to do on our previous 3 visits.'
'My personal favourite site was 'The Burroo', a spectacular site above & below the water due to the intense current that flows around the south of Calf Island outside the diveable slack window. – so much colour & life attached to every available piece of rock.'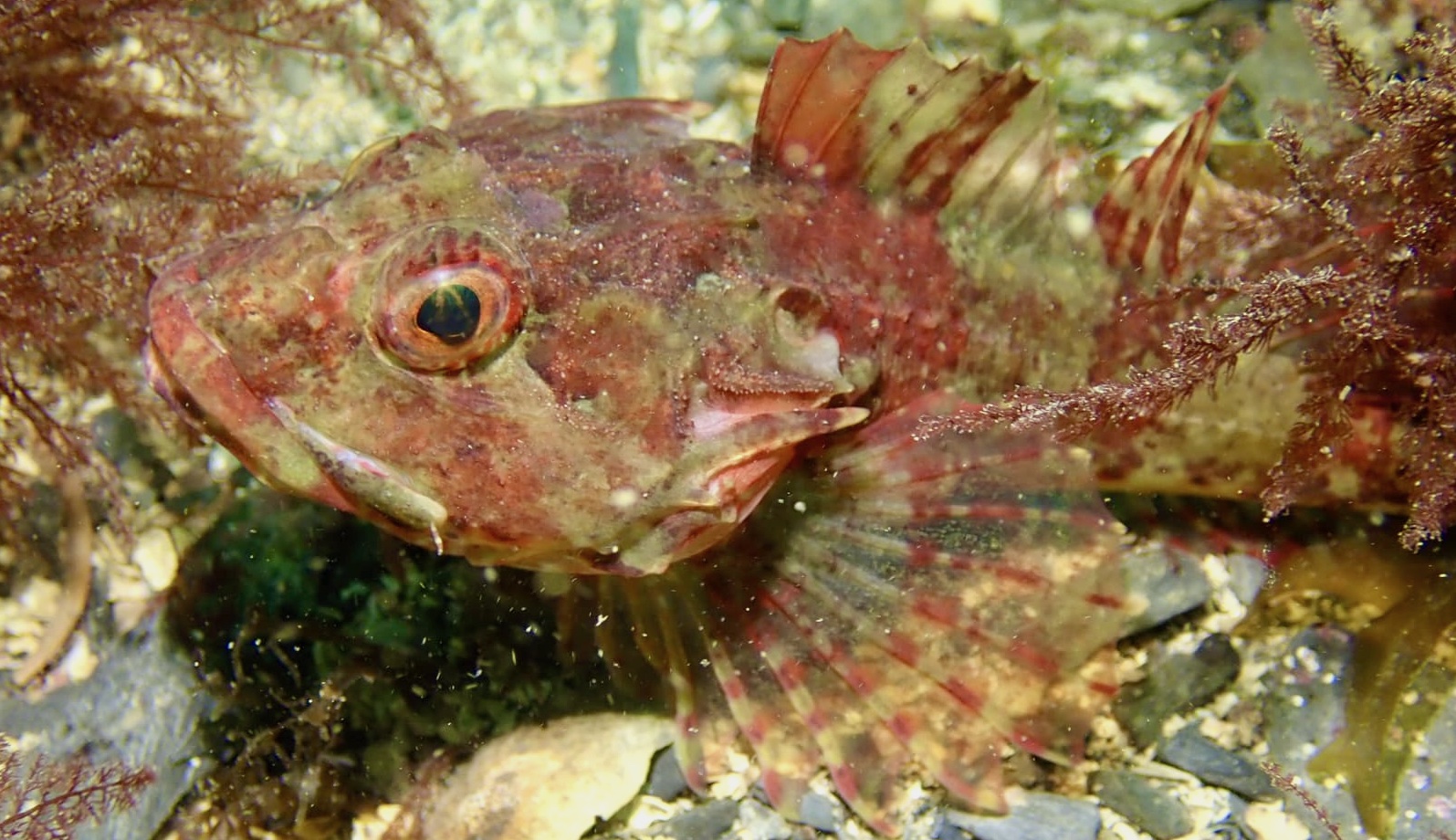 From Steve:-
'What a trip, the stunning weather helped, except for sitting around in a black drysuit.'
'Hard to distinguish between dives the visibility and underwater scenery was fantastic, but the drift dive was a wow, especially watching Kevin and Colin getting harassed by a gang of seals!'
'Normally I avoid curry, but Neil did a great job doing me a personalised version – nice change from fish & chips.
Basically I can't fault anything, a really great trip.'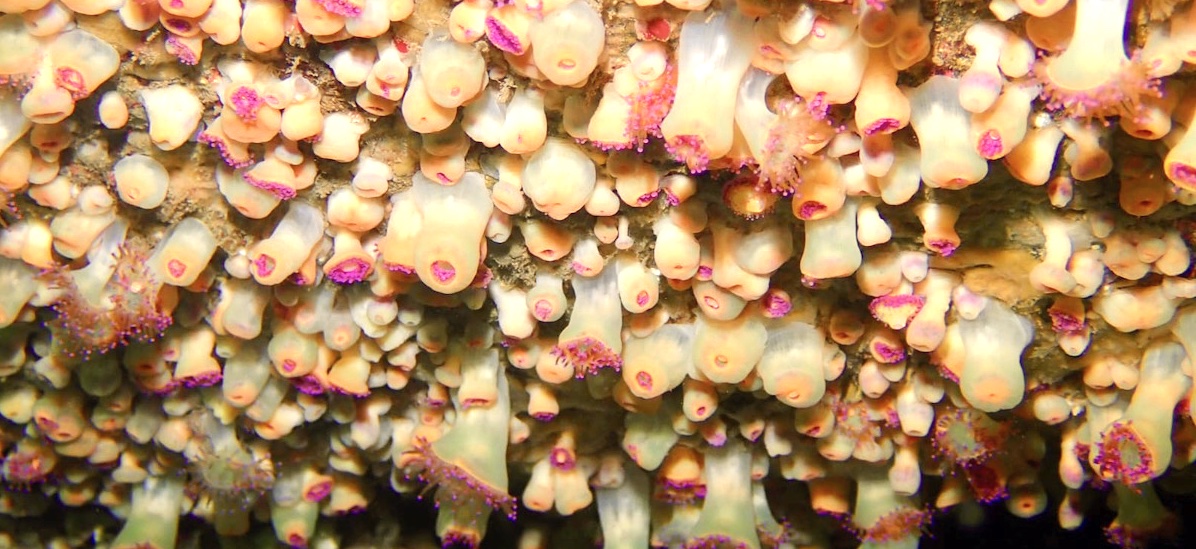 From Kevin:-
'My second visit to the IOM and you can be sure it won't be the last!'
'With 9 dives over 5 days there was plenty to choose from as my favourite but it has to be the Sugarloaf Caves where I got a real taste of what cave diving might be like – the strangeness of floating through the caves with near crystal clear visibility in mostly total darkness was like nothing else and then exiting to follow a wall & travel through further huge passages just added to the scale & epicness.'
.'But it wasn't just the diving but the whole 'family run' feeling of Isle of Man Diving Charters where you felt you were dealing with people who were passionate & really cared that you got the best experience they can deliver with expert knowledge of the sites & conditions.
From Neil:-
'Many memorable moments but I guess my particular highlight was the safety stop on Amulty surrounded by hundreds of mackerel and wishing I had the means to catch one (sorry Tim (who is vegetarian)) 😊'
'From the Burroo we could see down to Chicken Rock, also a superb dive but the tides were wrong for us this trip so we had to console ourselves with other amazing dives!'
From Tony (who joined us for a flying (shouldn't that be diving?) visit on Monday):-
'The last time I dived here was 44 years ago under the tuition of well-known diver & BSAC member Maura Mitchell who co-wrote 'Dive Isle of Man'.'
'Thanks for allowing me to be a guest on Mikes' boat for a short time! It was lovely to dive again on the island and I'll be back with some of my French friends soon.'
From Colin:-
For some members of the party this was their first trip, while for others it was a return but still added several new sites to the logbook & there are plenty more!
The whole party were on the same ferry back, to Liverpool, a shorter crossing (at 2 ¾ hours) before we disbanded & went our separate ways.
Heartfelt thanks from all of us to Geoff for organising, to Mike, Tom and the rest of the Keggan clan & deckhands Colin & Richard for the diving and accommodation.
One of the tests of a good trip is talking about when we can come back even before its over & it didn't take long for that conversation to start – so watch out Isle of Man: Aerodivers are planning their return in 2024 & maybe we'll even get to Chicken Rock!