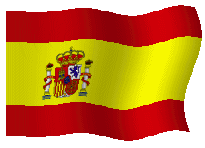 by Mary Hartigan.
June 3rd-17th :Well here we are back in Spain for another holiday chill out. This time it will be with a difference. As divers we have dived in a variety of different countries and only ever come to Spain to rest and soak up the sun. My husband Tony was given a contact in Ciudad Quesada not far from where we normally stay with friends who live in this wonderful country.
The nearest big town is Torrevieje, shown about half way down the map to the right.
The dive school called "Scuba Tribe S.L. is owned by a delightful Frenchman called Jon Philip who has Allan, a big strong Englishman to help him run the place. They offer guided dives and courses including, Open Water, Advanced, Rescue Diver, Introduction to Scuba and First Aid, but if you fancy a break from diving they also offer canoeing courses!
We decided we would like to do about 5 days diving over the 2 weeks we were staying in Spain, so Jon Philip invited Tony and myself to the dive school itself. This gave us the opportunity to look and see how everything was being run, and for Jon Philip to sort out the necessary arrangements.
All the diving kit can be hired at a very good price, so if you do not wish to take your dive kit everything is here. All, as you can see, is kept in very good condition and stored in the cool. They also wash all the dive kit for you whether you hire from them or take your own. Lovely!
Having their own swimming pool at the school it is very handy to test the diving kit out before you go on your first open water dive. Once this has been done the dive kit is yours for the duration. Each is kept in handy carrying crates and travels in a trailer from the diving centre to the dive site. Yes you are very spoilt!
Pick up time was about 9.30 every morning and the time traveling to each site took 45 minutes to an hour. Our first dive was to be in a place called Cala Muerta, a shore dive down some cliff steps. The scenery was quite something and with lots of small fish darting about the rock face. Looking up to the surface the views were amazing. Now if you like the thought of seeing octopus this is the place to come. We did manage to see a few on our first dive here. A great site. Moray eel, stone fish and barracuda plenty to see.
Other dive sites that we went to were just as exciting. How the dive sites were found must have been an adventure in itself. One such being near an old mine of some kind, a place called Cala Gorguel. The track down to the site was a very rocky ride indeed, if you enjoy rally driving this is the site for you. It puts one in mind of an old western movie with the sharp twisting track swaying down to a wonderful little bay with black sand. The water was lovely and clear and a good day's diving was had by all. I was surprised at the size of the octopus that we saw here, a wonderful site to see it in full flight. Brilliant! I was sorry that I had forgotten to change my batteries in the camera no pictures here. Oops!
I was very interested in another site at the Cabo De Palos. This I nicknamed the playing fields as it was covered with the most glorious amounts of grass frolicking in the swell, with amazing amounts of tiny fish gracefully gliding through the blades of the brightly coloured grass (magical). It gives you the feeling of peace and tranquility (bliss). Further down the grass was to string out into rows drifting into a pattern of formation dancers. Quite a sight! The rock formation was very interesting and an archway was something that I was not expecting to see with plenty of life passing through it. Again a most rewarding day's diving.
All our dives were shore dives on this holiday as Jon Phillip was in the middle of changing his boat, but plenty of really good dive sites are available including wreck dives of 30-40 metres. Here are but a few of them.
Altea (Boat dives)
Punt DE Toix (20 metres)

Walls by the Nanoy Elefante Caves (14 m)

Caverns open out to the sea, advanced divers only.

Isla" Mediana (20 m)

This can go down to 30m for advances divers only.
Calpe (shore)
Playa" Arena Blanca" (10 m)

Cunbre Del Sol caves and sump opened to the sea, advance divers only.
Tabarca Island

(Boat)
Ellirco (15 m)

El Congrio (Wreck dive maximum depth 30m)

Cala Del Gorguel (4×4 vehicles)

Two sites with depths at 11m down to 20m.

Cala Fria

Three sites with the maximum depth at 18m.

Cala Muerta

Two dive sites maximum depth down to 18m.

Cala Geonan

One dive site maximum depth down to 11m.

Cala Medina

Two dive sites maximum of 15m.
Isla Grosa (Boat)
Island maximum depth 15m.
Laja (Boat)
Reef maximum depth 23m.
Farallons (Boat)
Island maximum depth 20m.
Portman This area is a promising zone that they are not 100% sure on yet. There are at least ten dive sites possible with depths of 10m to 30m. All are by boat.
Interesting wrecks are as follows:
Naranjito is a long cargo boat depth about 39m.
Nona Minesweeper 40 meters long. Depth is 35m.
Tuna Also a minesweeper is the same size as her sister ship and is resting in about 28m of water. Both were sunk for Spanish navy divers about two years ago.
El Carbon This very big ship was sunk by a torpedo back in one of the world wars. This I'm told is a very impressive dive not to be missed!
Well I hope that I have given you a flavour of what diving can be like in this part of Spain. If you feel the need to go and try out any of these wonderful dive sites you can contact Jon Philip at Scuba Tribe S.L. (Details at the bottom of this page) You will be sure to be made very welcome by all. This I feel is a diving center that caters for all nationalities and at any level of qualification. Very well run.

My thanks go to Jon Philip and Allan for giving Tony and myself a brilliant taste of diving in this part of the Spain. You can rest assured that we will be back!! Safe diving.
If you are interested here are the contact details:
Scuba Tribe S.L.
Tel or Fax: 96 671 99 36
Mobile: 629 608 102 (Philip) – 629 638 024 (Alan)
E-mail: scubatribe@ctv.es
Last updated on: 8-August-2000
Copyright © 2000, 2008 Bristol Aerospace Sub-Aqua Club