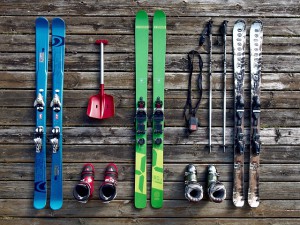 Well, yes it is, relative to tiddlywinks or shove-ha-penny!!
As an avid skier for the past 46 years, I can honestly say had I saved every expense I incurred during my skiing career, I would now give a close run to Rupert Murdoch's fortune but I am a great deal happier with more real friends than him.
For skiing there is very little initial outlay getting started; one can usually rent skis, poles, and boots (provided you do not have weird feet) and if one is careful and prudent, one can buy appropriate used clothing or augment your existing winter clothes.  However, you do have one bit of an expense that is a constant drain – getting to the ski area and accommodation and food/drink while there.  And it is not very sensible to go for a weekend – spending all your money for 2 days if lucky and the biggest cost will be your flights.  Even with all my own kit, a very good value B&B and eating frugally etc. I am pretty certain my skiing costs me about £100 per day!!  On top of that, I have to buy new skis every 4 years (£500) and boots every 7 years (£400) with odd bits and pieces for £100 per year – though I do get 40 days skiing every year!!
For diving, the Initial costs are certainly greater as one needs:
BCD (Buoyancy Control Device – looks like a life-jacket & keeps you afloat – when needed) £150-£350 new, £50-£150 used
Regulators (so you can breathe, sort of important!) £250+ new, £120 used
Cylinder(s) (for your air) £160 each new, £80 used
I bought the above for £250 (from another diver) and was able to sell them (to new club members) for £100 when I replaced them with better equipment.
Mask – expect to pay £20-£30
Snorkel – around £20
Fins – around £30-£40
Computer – you can get by on dive tables to start with (£15), later you can pick one up for £160 new, £80 used
Thermal Protection – a wetsuit or preferably a semi-dry (which keeps the water in & your body heats it up) £100 new, £30 used; I still have and use this occasionally but did supplement it with a dry-suit : £500+ new (which I sold on) when I replaced it with a better one.
Admittedly, during the training process much of this is provided, but once qualified, you will be expected to have most of these things.
Used prices have been quoted above, and when you're starting out that is definitely the way to go to keep costs manageable (club members often have kit they want to sell, while ebay is also an option). However you do need to bear in mind where BCDs & regulators are concerned you need to make sure they have been serviced recently – your life could depend on it! And cylinders need to be checked every 2 ½ years
You are now ready to go diving and all you really require is getting to the dive site!
Unlike skiing, sites can often be very local, eg. Cromhall and so there is minimum expense (just entry fees (around £15 & air £5)
Others although further afield (Brixham, Plymouth) incur additional travel and possibly accommodation costs, but since you're in the UK, if you're sensible, you dive in the summer so camping is an option as well as making your own meals.
I now dive locally and figure that a weekends diving probably costs me about £150 all-in (but I do live well!) and when we do a club trip in the UK costs are probably half that of skiing trips.
Of course, when I treat myself to a deserving trip to an exotic location the costs can really mount!!
by John