By Sue R, Chris H & Kev G
Once upon a time there was a skipper called Emily who had a very scrumptious boat – Huskyan and in September 2016 several members of our club (Neil, Chris H, Chris L, Sue R, Bob, Kevin G) and guests from other BSAC clubs made our way up to Stromness for a week of diving with Emily on MV Huskyan.
It was an early start from Bristol but it seemed the further north we went the better the weather got to the extent that our entire week in the Orkneys was sunny & mild throughout – this is Scotland?
Welcomed onto Huskyan off the ferry from Scrabster our kit was loaded via crane – very impressive! before we set it up with deck-hands Ben & Tom's help and were then given a conducted tour.
'I think I liked the ladies bathroom best of all!' – Sue R.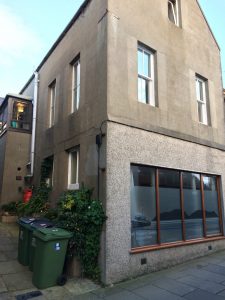 Emily led us to the Divers Lodge a few yards away from the harbour, where we were to live for the next seven days.
The house is very warm and comfortable and right next door to the pub (literally 🙂
Very soon we had unpacked, settled in and were ready for our first outing the following morning.
Emily's pre-dive presentations were as detailed as we could want: full of history, interesting stories and a comprehensive first-hand knowledge of the wrecks.  Her use of diagrams and photos helped us enormously to recognise features when we carefully descended to the sunken giants below us.
In all we covered all the major wrecks, some a number of times (and there was no way we'd seen it all even then – it'd take years!) with each buddy pair taking their lead from the briefing and then formulating their own plan of highlights
We dived: SMS Dresden, SMS Karlsruhe (x2), SMS Kronprinz Wilhelm (x2), SMS Coln (x2), SMS Markgraf, SS Tabarka, SMS Konig, SMS Brummer, F2 & Barge YC21
Each dive was stunning, not only from the wreck and historical aspect, but also from the perspective of the marine life which is so abundant and covers every inch of the ships, creating fabulous reefs to explore and photograph
Most memorable moment?
'diving it was finding that elusive nudibranch on the last dive at the very last moment at the bottom of the shot ready to ascend. On the surface it was discovering I could actually cook for a large group of people, without there being any casualties!, be it with some assistance from a Sue Chef (there is a joke there somewhere)' – Chris H.
'the rush of adrenalin of the negative entry for the Tabarka, fighting the current to get inside and then being stunned by peacefulness and the shafts of light blazing through to illuminate the interior like a cathedral' – Kev G.
Favourite dive?
'the massive hulls of the battleships?, the near vertical dive of the decks of the cruisers lying on their sides? or the more scenic dives on the Tabarka and F2, plus it's failed salvage barge?. Sorry, but it is all of them.' – Chris H.
All in all it was a wonderful week both on the boat, thanks to Emily's expertise, professionalism, attention to detail, a great sense of humour and tremendous enthusiasm for her passion and on land with a real camaraderie of folk on a mission to enjoy themselves
Why go?
Some of the best wreck diving in the world – with enough to explore for many a trip
Some of the most scenic diving in the UK – the ships are literally reefs of profuse life
It's great fun with a group of fellow divers
There are also lots of things to visit on Orkney and you usually get back to port in time to go out and enjoy the history of the island – and the distilleries (there are two!)
Our thanks to
Emily and her crew for a marvellous week – you must have done something right because we're probably coming again!,
Neil for all the organising – a job well done!
Our fellow divers & non-divers for making it a week we will treasure in our hearts