by Pete.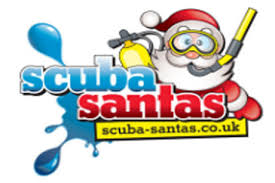 2nd December, 2010 : Scuba Santa's are holding their annual Charity fund raiser and World Record attempt for the most numbers of Santa's diving at the same time (158 last year) at Vobster Quay on Sunday 19th December.
There are no extra fee's (apart from normal Vobster diving costs) but all money raised through donations on the day or via 'JustGiving' will go to the RNLI. All donations will recieve a ticket to go into a prize draw.
If anyone would like to take part (Ocean Diver minimum qualification) please let me know so that we can arrange transport, buddy pairs and free registration (I've already registered as this makes it easier for them and us on the day).
Remember you must be in a full santa outfit with beard and belt to qualify for the record attempt.