Following our kick-off pandemic dive a few weeks ago we decided it was time for another excursion, this time a (very) long overdue visit down to Swanage Pier.
Using a very comprehensive Dive Plan (based on Tims' inaugural one for our Brixham excursion) incorporating the latest BSAC and Government restrictions and guidelines our intrepid trio (Tamara, Colin & Tim) unleashed themselves on Swanage, this is their story…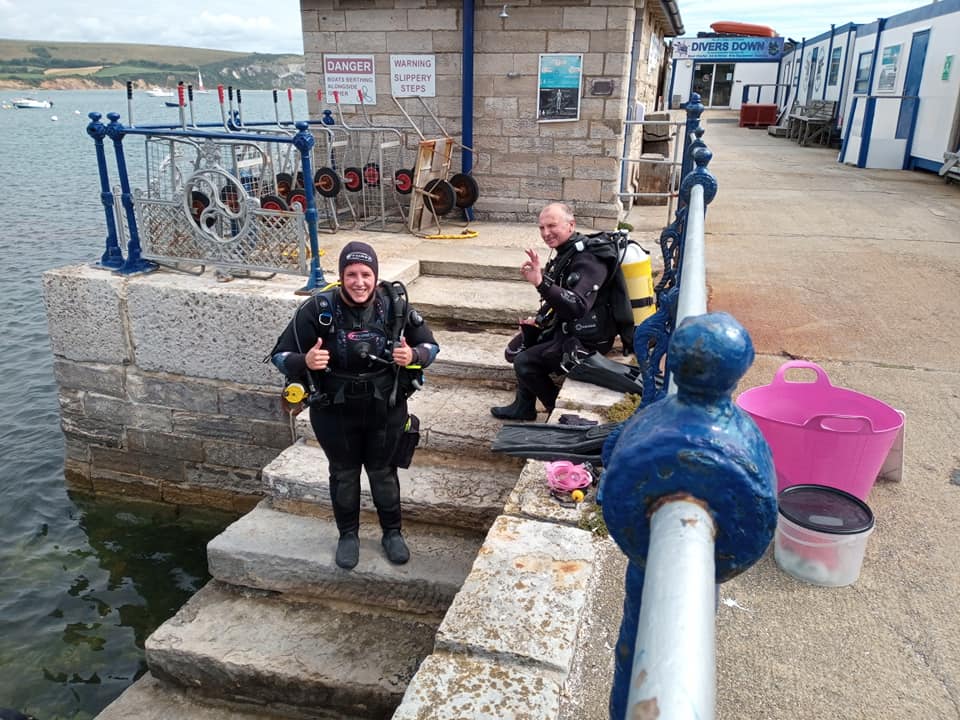 Colin – 'Having braved the almost perfect conditions for diving to go to Swanage on 7th July it was an early start to trundle off down the road to grab parking.  The trip itself on fairly quiet roads took something under 2.5hrs.  I arrived at 09:00 not expecting the car park to be open but there were 3 other cars and a motorbike in front of me waiting for the gates to the limited pier parking to be unlocked (opens at 10 & £9 for the day).  I'm not sure of exact numbers but my guess is no more than 30 cars maximum, with some creative parking needed (being in the van, I had to reverse all the way out).  I can confirm that the cafe is open serving food to outdoor tables – I didn't explore inside.  Toilets are open with hand sanitizers available for use.  Divers Down is not yet open for business and as yet no clear indication of when that might be.
High tide was around 10:00 so there was a lively donning of suits and equipment check for a speedy entry – all social distancing measures adhered to, as laid out in the dive plan.  Tamara and I entered the water from the stone steps which are remarkably un-slippery but care is still needed.  Water quality was very good as we swam along the harbour wall to get to the legs of the pier, however the depth progression was slow until we arrived at the first leg.  We then had a good rummage around in my usual fashion with Tamara videoing our every move, and every aspect of marine life.  This was plentiful and varied from the smallest of fry at 15mm just visible on the sand, to what looked like a lunch-sized plaice which managed to evade capture!  Being my first dive under the pier, the one thing I would take away from it is that the many pier legs can make for some disorientation so on a couple of occasions we needed to regroup and re-orientate ourselves.  None the less we had a successful outcome getting back to the steps after having dived for 62 minutes with a maximum depth of 4.9 metres.  The dive concluded with a typical gear faff with the social distancing measures making no real impact on that.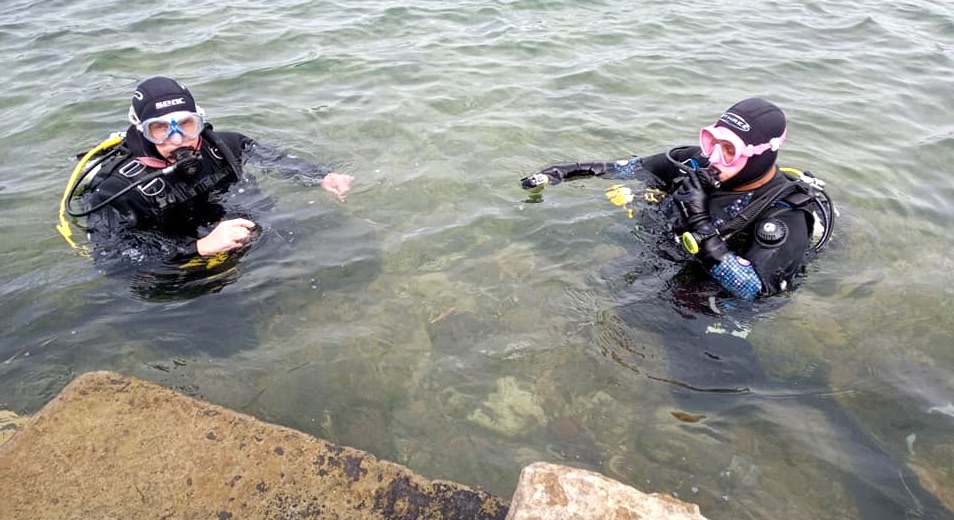 Tea and medals then Tim and Tamara donned kit whilst I remained on shore cover.  At this point I'll hand over to Tim or Tamara for their report of their dive.  As shore cover, my only input would be to log in and out times and dive duration which Tim recorded as 59 mins with Tamara only managing 57 mins 🙂  Good diving and location certainly worth a revisit, and good company as ever.'
Tim – 'We proceeded to the end of the pier exactly on 30 minutes and then turned around with 30 minutes to return to complete the hour dive.
On out way back we encountered a lovely large cuttlefish and spent quite a while watching it.
Soon after that one of the anglers caught a Tamara so I had to cut her free and remove the hook from her neck seal – that however wasn't the disaster!
We made our way back rapidly running out of water as the tide was falling. We got back to the steps. De kitted and went up them where Colin was waiting with the slate.
Nooooooooo! Total time 59 minutes.
We'd been in much longer but the computer stopped counting when we got shallow – I expect you will find this funny 
'
Well all in all a successful trip & one I'm sure we'll repeat (in fact we're back to Swanage for hard-boat dive on 23rd August so we'll say hello again then
Take care. Dive safely.