by Frank Rogers.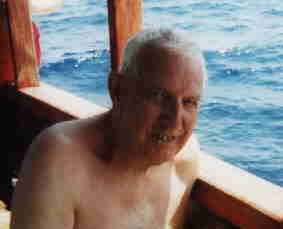 Well what a holiday! I didn't think you could come close to the Cuban experience but I was wrong, this was equally as good and it would be wrong to try and compare them. The only thing that doesn't change is the company the humour and the social sessions which were to the usual standard enjoyed by our club and does so much to promote its success.
The flight from Male to Vilamendhoo in a twin engine float plane was another first.
The facilities and accommodation were first class and the people friendly a wide variety of excellent food all helped to make an enjoyable holiday.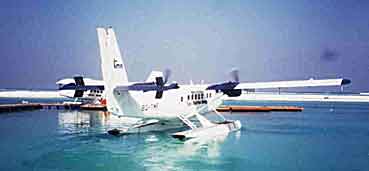 After 39 years of diving, to experience some of the fastest currents I have ever swam in with such good visibility, then to surface and find the boat not far away with a helpful boat crew to help you back on board was brilliant. The German dive centre was well run and our Dive Master, Jens, was very good particularly when he finished our diving with a trip to see the Manta Rays! what a privilege to be entertained for an hour to such a graceful display by such a large creature, it put having my ear nibbled by a small cleaner wrasse into insignificance along with having my finger bitten by a small moray eel.
All that remains to be asked is where are we going next year?
Copyright © 2001 Bristol Aerospace Sub Aqua Club. Last updated: 25-April-2001