Welcome to the second part of this review of dive books that take a world view. Part One can be found here and Part Three should be with you in a week or two. Enjoy!
Diving the World: A guide to the world's most popular dive sites – Beth & Shaun Tierney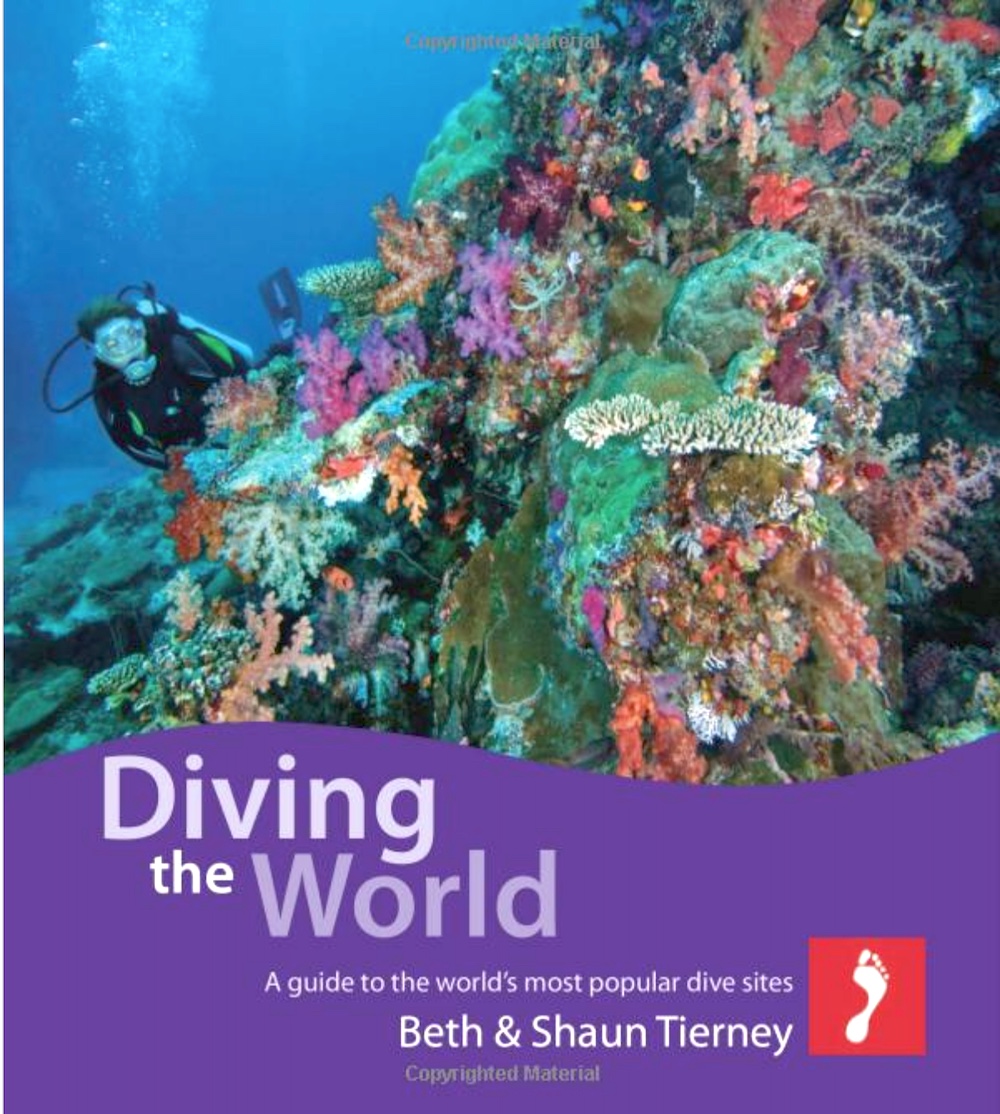 This one is looking to do a similar job to the first title reviewed in this series (Dive Atlas of the World in Part One) albeit in a significantly smaller format, indeed it is a similar size to 'Fifty Places…'. The blurb on the back indicates the book covers the places most popular with travelling divers: over 275 sites in 24 countries so let us see how it sets out to do this.
Unlike 'Dive Atlas…' this one divides the world up by region rather than overall ocean & region, which to be honest works pretty well if not providing that fully 'zoomed out' view my geography challenged brain craved. Presented in alphabetical order you get Australia, Caribbean, Central America, East Africa, Fiji (which for some reason gets its own section), Galapagos, Indonesia, Malaysia, Maldives, Mexico, Micronesia, Papua New Guinea, Philippines, Red Sea, Solomons & Thailand. What you don't get are the Mediterranean, the UK/Ireland, Japan and any number of other places many of which contain sites widely recognised as essential entries on any divers' bucket list. I suspect this is because this book is a wider-ranging (but more selective) version of Beth & Shauns' Diving Southeast Asia (also from footprint) & they probably haven't gotten there yet – well that's my theory anyway!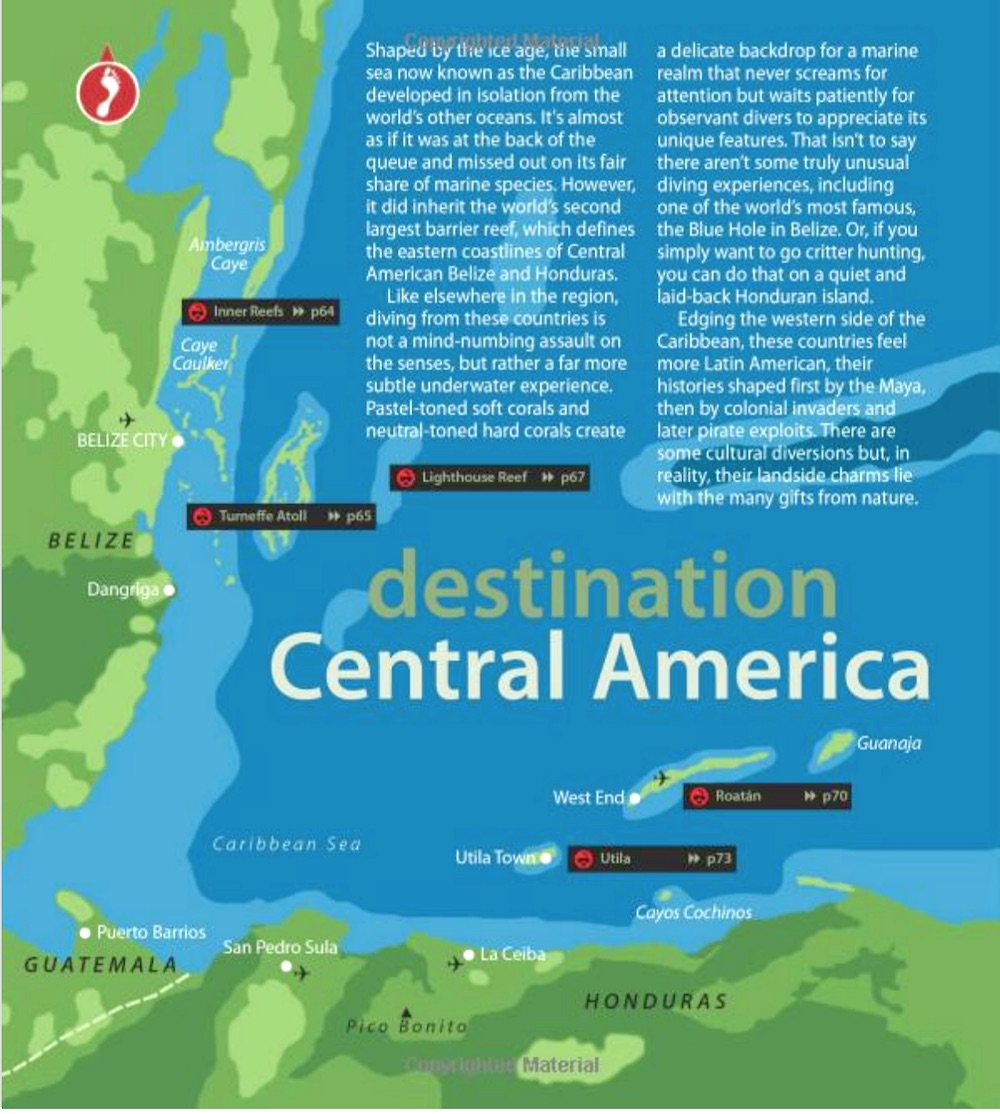 Moving on to the presentation, each region covered has a standard approach: a summary index, a simplified map with the areas (& relevant pages) marked, some background (facts, laws/customs, health & safety, costs), a dive brief which highlights particular diving aspects (type, life, snorkelling, why you would want to go (this last is a good addition)) and then a summary of the dive sites with maps followed by a couple of pages on each (description, depth, visibility, currents) all illustrated with plenty of interesting & relevant photographs – despite being no larger than 'Fifty Places…' these come off much more vibrant. Finally there is a section on non-diving related activities (in case you want to mix it up a bit)
I must say that apart from missing some of what I would say are key sites (Scapa Flow, Isle of Man, Baltimore in Ireland and Malta among others) the book does an excellent job for the sites it does cover and at £20 is a steal. This 2014 (3rd) edition is the most recent so here's hoping for a new (expanded) edition soon 🙂 Highly recommenced!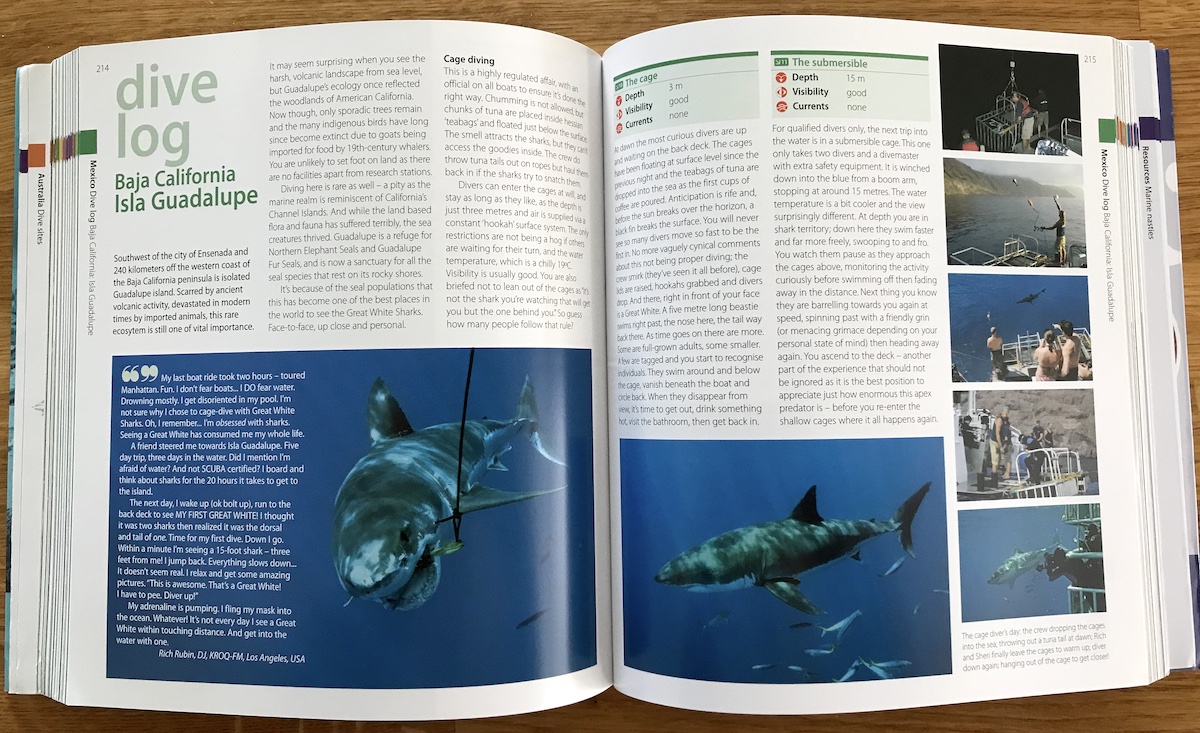 (£19.95. 368pp. 21 x 19.4 x  2.4 (cm). Softback. Footprint. Oct 2014. ISBN10: 9781910120057)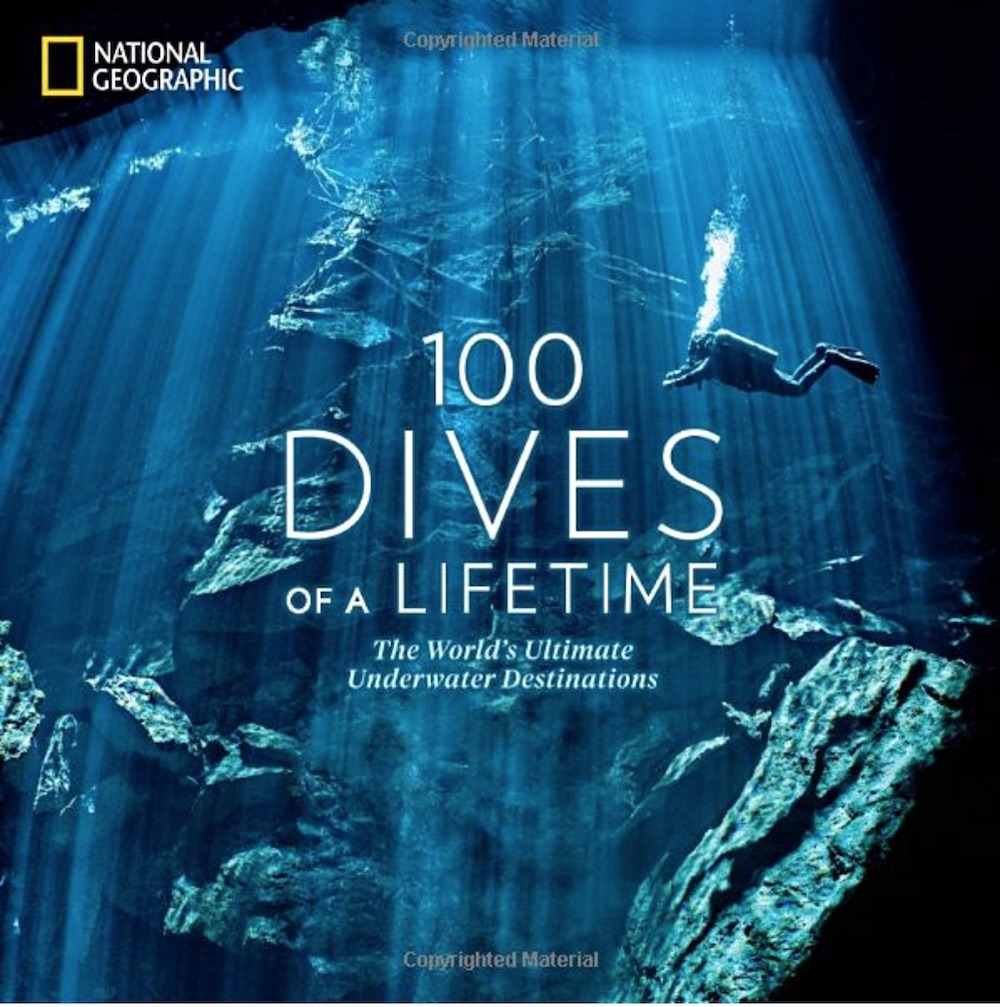 100 Dives of a Lifetime: The World's Ultimate Underwater Destinations – Carrie Miller & Brian Skerry
Along a similar vein to 'Fifty Places…' this one presents a curated list of 100 recommended sites across 60 countries but without the creepy die motif (though it does mention lifetime!). As with any opinion-based selection there will be differences of opinion with regards to the selection made but with the strength of the National Geographic organisation behind it & the quality of presentation here you can almost forget that!
The sites/experiences you do get range from night diving with mantas in Kona, Hawaii to the crystal-clear cenotes of Mexico to the thrill of diving beneath the ice in Antarctica…it goes on and on and all are presented with knowledgeable in-depth articles, expert advice and as expected absolutely stunning National Geographic photography of which there is certainly no shortage: over 350 images sparkle from the page to inspire wonder and a reach for the calendar to plan that next trip, or two or three!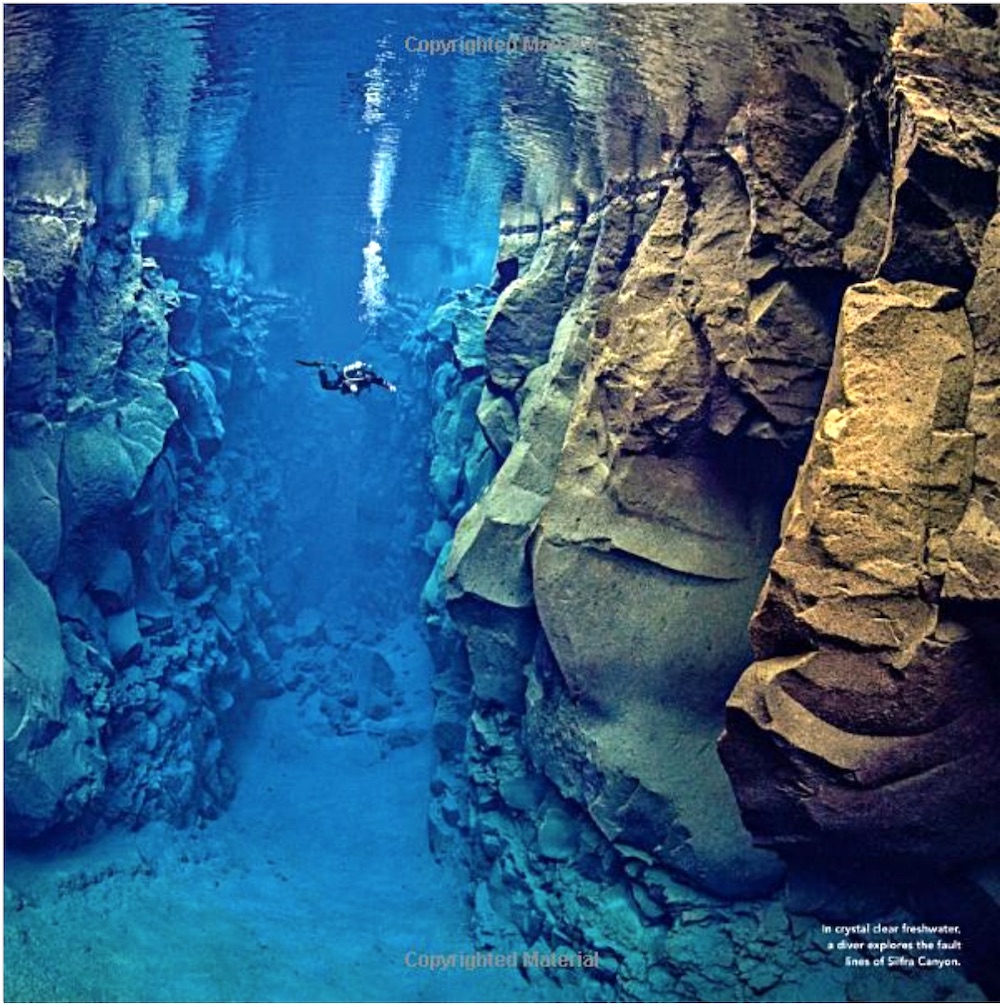 Author Carrie Miller (travel writer & contributing editor for National Geographic Traveler, diver & adventurer) and respected photojournalist Brian Skerry have produced a volume that is split into three main sections based on diver experience: Beginner, Intermediate & Advanced/All-Level so there's something for everyone here at all stages of your diving career. A two page map at the start shows where they are located around the world.
For each dive the main article provides brief details (average water temperature, visibility & depth along with dive type) followed by a great context setting introduction  followed by knowledgeable content on what you might see, things to look out for, advice on when to go and other essential travel tips. The dives themselves cover the full range from open water reef/wreck to caves, walls and more. Dives include warm & cold-water and all as mentioned before (but worth mentioning again) are illustrated with the most gorgeous photographs.
Supplemental travel and and expert diving advice from world-famous divers and explorers like Brian Skerry, Jessica Cramp, and David Doubilet finish up the offering.
A highly recommended book but at the time of my purchase (early 2020) very hard to come by at a reasonable price (possibly due to it being imported rather than published in the UK). But well worth tracking down – you'll be glad you did!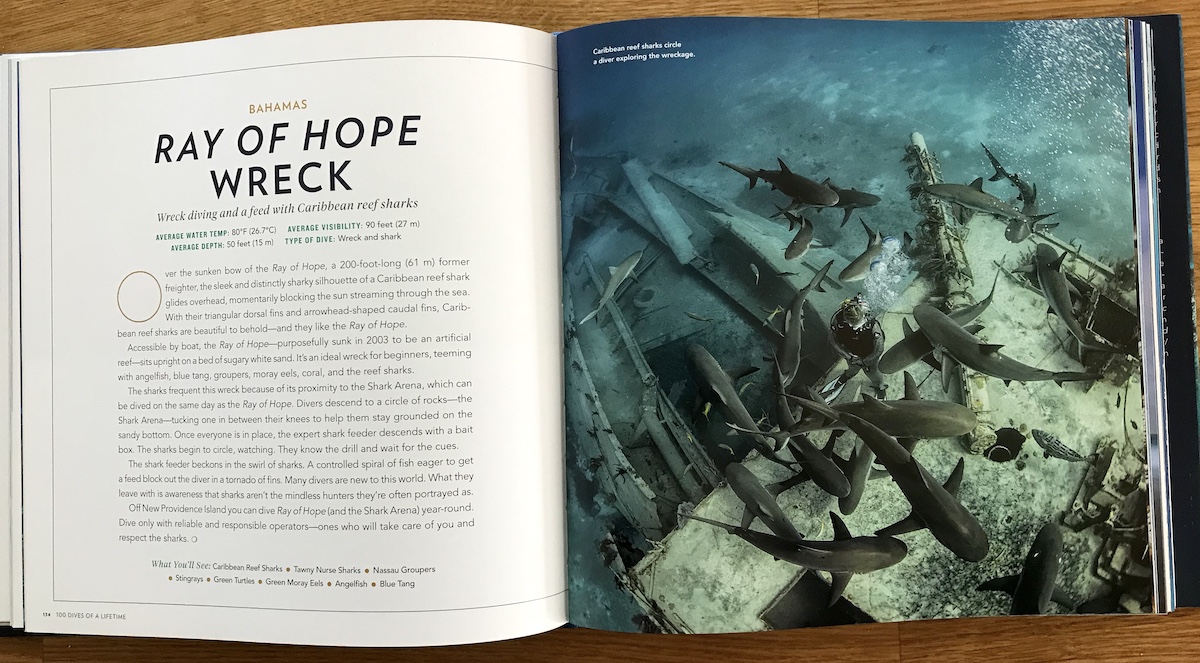 ($35.00 400pp. 20.3 x 20.3 x 3.81 (cm). Hardback. National Geographic Society. Mar 2019. ISBN10:1426220073)