by Sue R.
Saturday 3rd November, 2007 : The wind was in a good direction and the weather fair so Matt, Bob, Chris H, Cecilia, Mark, Ruth & Celia (& myself) took ourselves off to Babbacombe for the day and in around two hours we were there!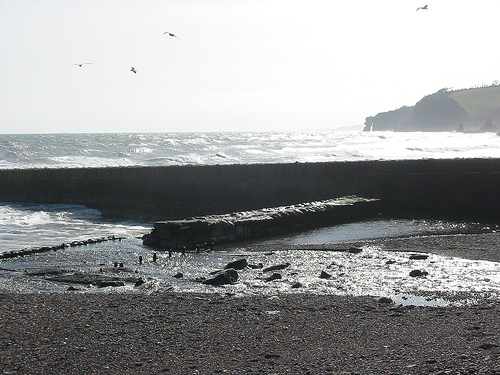 The newly qualified PADI Open Water lady, Celia, dived with Matt and she said that I couldn't have chosen a better buddy for her – so thank you Matt for looking after her so well.  She had a great day, two really good dives and she did say she'd be very interested in joining the club ……
I hope Chris discovers the name of the very big fish that got away before Cecilia or I could see it and I am very happy as I saw my first John Dory.
I'd just like to thank say thankyou to everyone who came to Babbacombe yesterday and also to Mark, on his first job as D.O. who not only helped with and supported my dive plans (thank goodness !!), but also came down with us and he could advise us on the day too.
I hope you all had a good time and thanks for helping each other getting in and out of the water and over the rocks etc.  The thing I didn't foresee was the toilet closures before we'd finished diving, so those with semi-dry suits had to be quite imaginative about where to hide their modesty !
---
And now an example of a great Dive-On! notification
Re ; Dive-On Saturday 3rd November at Babbacombe
Would anyone like to come down to Babbacombe this Saturday for some relaxed shore diving and baby cuttlefish hunting ?
So far names of people coming are:
Neil

Matt

Bob

Cecilia

Chris H

Sue R

Ruth (guest)

Celia (guest)
Weather
Looking at Metcheck, the weather seems fair with light winds for the whole of the week and no rain forecast so viz might be good – hopefully the complete opposite of last Sunday at Brixham !
NB – If things change, especially the wind direction, the venue may be different.
Tides
HW at Babbacombe is 12.35pm
Things to see
Underwater, apparently there are baby cuttlefish to be seen – about 6 inches long.  Last weekend the viz was between 1 and 5 metres, but you can never tell and it might just be 1 metre.   I'm also told that there are seahorses but I've never seen any there.
Times to meet
I spoke to the local dive outfit yesterday who said that last weekend was extremely busy even with the rain (and the cafe ran out of food …)    So since the car park is very small I plan to be down at the car park at 8.40am, which costs up to about £5 -£6 so bring some change.
For people who haven't been here before:-
Getting There and Babbacombe Beach website and live webcam
Just go onto www.babbacombebeach.com  Look for Beach Road on the streetmap links to the area.  The small Car Park and Cafe are to be found down at the bottom of the very very steep, winding road down to the beach.
The website gives directions, details and history of the beach, photo gallery of underwater creatures and much more.
The live webcam is really good so husbands, wives and children can log onto this site and watch you as you dive.  The last time we were there, one of the wives captured a picture of us all waving into the camera and sent it to us on our return.
What to bring
You will need to bring enough air for your dives as there is no air on site.  eg 2 cylinders each.
Also, please make sure you have plenty of warm clothing to put on between the dives eg. warm hat, gloves, caghoul, fleece.
I would suggest a flask of something hot and some food as well.
If you would be interested in joining us please would you contact me as soon as possible either by email or on nnnn nnnnnn or nnnn nnnnnn