by Harry Ryalls.
We have arrived.
Not long afterwards we were sitting in the shade of one of the reception area's drinking a refreshing cocktail of exotic fruits and wiping away the stains of our travels with a hot towel. Here we met one of the rep's that is staying on the island, (not the Hayes and Jarvis rep – he might get to us sometime during our stay, but I did not see him at all, except when we were at the airport on the return leg of our journey), she said that there was a get together that night after dinner, when we would all be told about the island, the surrounding area and all the other things we would need to know and have any questions answered. We would also meet our dive centre manager who would tell us about the diving, but for the time being it was off to our rooms. Porters, carrying our baggage on their heads and with us in tow, led the way through the trees and down well-trodden paths towards our rooms.
I must say that I was pleasantly surprised when we arrived, although we only had the one room, it was a very large one with a fairly large wardrobe and built in mini-bar, it had a spacious bathroom, which was totally enclosed, unlike the one's some of the other had that was half open air. Our Villa (OK Tony?) was situated just a short walk back from the beach, shaded by the palm trees that sadly cut off our view of the surrounding area and that lovely beach view across the water towards the next island, although it did give some much needed shade at certain times of the day.
Each villa had it own set of sun lounger's, our started as those white plastic ones that are normally found at holiday resorts, but these were changes during our stay to some very nice wooden ones, that, although a bit hard were quite comfortable when you got used to them. We had all arranged to meet in the main bar after we had unpacked our things and freshened up and this is where I was sat enjoying one of the many beers I would be having throughout our stay and where I started this story.
Looking back on the experience and the holiday as a whole I think it was worth it. If you take the time to read some of the other reports from my holiday buddy's you will see what a fun time we all had, the staff on the island could not do too much for you, they were all very courteous and helpful, the diving was well structured for the experienced diver and the dive sites were spectacular, and although I did not dive them all, everyone who did gave some graphic accounts of them.
Our dive guide Jens Kruger made every dive very safe and enjoyable. Everyone had to do a checkout dive on the house reef first, where a demonstration of the ability to do mask clearing and DV recovery was a must for every grade from Instructor level to Club Diver, before you were left to enjoy the experience of your first dive of the holiday.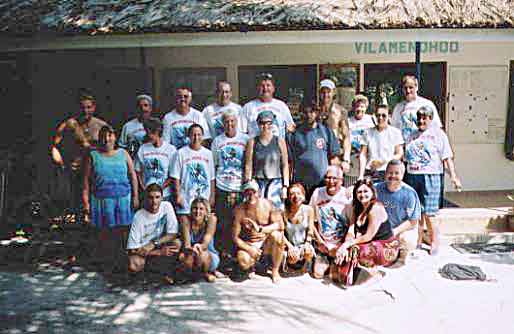 Some of us were here for a break with diving as a bonus, some were here with diving as a must (hence the name in title) but we were all here to enjoy ourselves and that is just what we did. I would like to thank all of my fellow travelers for a wonderful time, especially those of our club, as well as those from 'the other group' who made for some very funny stories. I can only say I will never look at a frankfurter sausage the same way any more, but that a story for another time. I hope you enjoy the other accounts of this trip and that they whet your appetite to visit this wonderful place in the sun and all it has to offer you.
Good reading.
Copyright © 2001 Bristol Aerospace Sub Aqua Club.        Last updated: 9-May-2001