Finally, after multiple cancelled trips due to inclement weather it looked like we might just get out diving – though the tail end of Storm Arwen threatened away it was just meant to be 🙂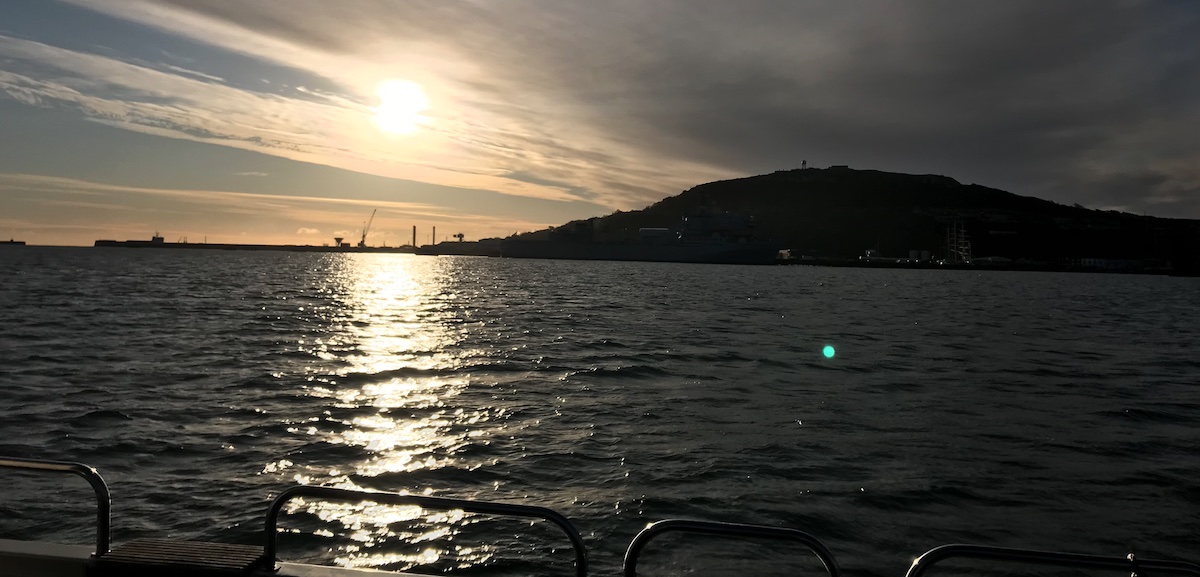 A very early start (5:30!) to get to Portland for the 8:45 ropes off. No trouble on the roads – not surprised: sensible people were still in bed! Greeted Nick, changed & loaded up our choice of trolley (no shortage of them) – Colin demonstrated his interesting method of getting his twin set in by sitting with it into the trolley – I insisted he get out again before I started pushing it!
Onto Scimitar- now a very roomy catamaran since I last dived with her and with only 5 divers altogether even roomier (she can take up to 12). Nick gave us a briefing & with the sun making a valiant effort to counter a rather chilly wind we set off for the 50 minute journey to our first dive.
We passed a cold-looking rowing crew on the way out before getting up to speed across a slightly choppy sea.
Elena R.
In went the shot & after a brief wait for slack Colin & I followed the other 3 divers down the rope.
After some initial effort to get re-engage my mental gears to remember how to sort buoyancy we set off to explore. With visibility a good 6 metres it wasn't hard to appreciate the wreck.
Significant amounts of wreckage provided plenty to explore & for various beasties to hide in – we lost count of the number of large crabs and blennies we spotted along with several lobsters.
The boilers were 70% buried but still impressive to swim over. It's quite a deep wreck – pushing 30m (ideal for nitrox if we'd had it) so we had to leave her as our no deco limit was reached.
Back on the boat we all agreed it was a great dive
British Inventor/Lulworth Banks
After a surface interval where the main task was to stay out of the icy wind Nick dropped us on the British Inventor for a drift across the wreck (mostly broken up)
The whole wreck was swarming with Bib around every plate & girder.
We then drifted across Lulworth Banks for a scalloping run (not us but certainly one of the other divers) or just to admire the scenery & spot beasties in the way past – swimming scallops, spider crabs, a cuckoo wrasse, a gurnard & a selection of others.
Back on board we admired the scallop & lobster haul & reminisced about dive trips past.
A quick trip to Underwater Explorers to look at shiny diving stuff, pick up some bolt snaps & books to research future trips & we were on the road home.
With a 12 hour door to door it's a long day but we'll worth it & I'm sure we'll be out again soon!