by Mike, John, Rob, Duncan, Chris H & Laurence.
Saturday April 23rd – Monday April 25th : Plymouth for the Bank Holiday weekend was the plan; we took two boats (see later for the towing adventure!), both 6 berth Humbers. We did not fix dive sites or buddies ahead of time, leaving that to the days themselves.
We had a good mix of qualified divers and boat handlers that meant we had no major restrictions in terms of scheduling, Mary, Laurence, Rob, Chris H, Tim, Jo, Duncan, Mike, Sue, John & Geoff all dived at various points over the weekend and we managed to dive
Saturday April 23rd
Mewstone Ledges, always a good starter & as usual they didn't disappoint
Sunday April 24th
James Egan Layne, another old favourite, but there's a reason for that!
Glen Strathallen, old faithful
Monday April 25th
Glen Strathallen, back again!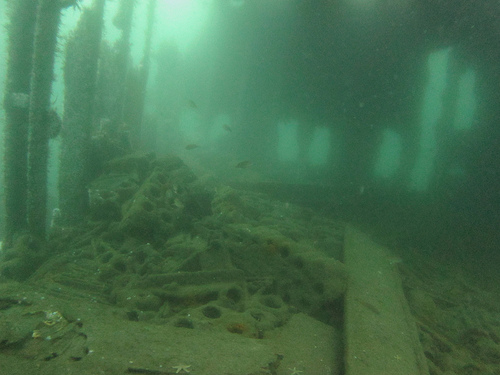 The feedback, more than describes the enjoyment felt by those attending:-
John – What can one say – when the chips are down and everything (except the weather) is "agin" us  – AERODIVERS comes through. Especially thanks to those on the ground of the bodgers & jerry rigging society what a job – well done and 3 waves and 2 on the last see we can do it
Rob – Thank you to Mary for organising a really enjoyable weekend, even with all the un-planned events. It wasn't the best weekend for boat/trailer/boat care officer performance.  But everyone pulled together and we got some good dives in in the fantastic weather. Thank you also to our array of cox's.  In particular Tim, who I believe did the lions share, but did allow some of the new blood have a go.
Tim – My personal diving highlight was letting Geoff find a baby ray, which was just brilliant.  I'm looking forward to the next one.
Duncan -I also would like to thank Mary for all of her organization, including laying on some fantastic weather, for the weekend. The diving was very good and the level of improvisation and mechanical skills shown over the weekend was tremendous. I learnt a great deal about trailers & boats and also I have learnt not to argue with an outboard engine pull chord!  My thanks to the first aiders for patching up my finger.
Chris H -hanks to all from me also for an entertaining weekend.
And now the detail on the bodgers & jerry rigging mentioned above from Laurence:-
Well… Mary and I picked up the newish boat on Thursday early evening from the big barn, with help from Rooster.
We drove it OK until we were going along Avonmouth Way past Avonmouth Cold Storage (no significance). Up to that point I could see the boat in both wing mirrors, its about 6 to 9 inches wider than the van, and was equal on both sides.
Next time I looked in the mirrors, it was level with the side of the van on the offside, and sticking out much more on the nearside; so I thunk, what's up?  Better stop.
We pulled into the next industrial estate turning, hopped out and the offside wheel looked a bit wonky and was smoking.
Reversed back into said turning, jacked up offside trailer wheel, grasped wheel in both hands and it came straight off, no nuts undone, complete with a very hot brake drum and tyre, and various bits of brake shoe.
The outer bearing was completely missing, the inner one very mangled with only a few rollers remaining. Fortunately we have AA relay and a very nice man appeared about 1 n a half hours later; we put the wheel back on, winched it up on to his lorry, and he followed us back to the barn, where he very skillfully backed it right in almost as far as it would go at the back of the barn and carefully offloaded it.
The moral is…. well I'm not sure.  If we had taken the wheels off and the hubs apart the week before, I think we would have said "this needs grease", whacked some on and put it back together; and exactly the same thing would have happened.
So it's a very good thing to have recovery,  and these hubs presumably need fairly regular and very careful inspection, which is something that all towers need to be conscious of.
Apart from that, we were lucky it didn't happen 2 miles later when I would have been doing 60, and might have written off the lot.
PS pull cord broke on the Alpha and a roller fell off. Both sorted in Plymouth.