Sometimes it's the things that are least arranged that turn out the best & such was our fallback to Cromhall when our Portland trip was no longer possible.Originally two buddy pairs, then a trio, then back to two pairs and finally back to a 3, Tim Geoff & I met at Tony Powells' for air & then down to the ticket office where Sue was awaiting Vicki for a swim. As Vicki arrived we headed round to where a group of 6-8 divers had set up camp by the mid pontoon with promises of 5-6m viz from Tony.
Check out the report below and there's also a video here: https://youtu.be/2IYEM92173Y
Kitted up & giant-striding in we found Tony was as good as his word & we quickly located the cabin cruiser and then the plane and helicopter in short succession, being able to see one from the other.
The plane was lying on a somewhat crushed trapeze/scaffold where it had come to rest after its' final underwater flight (apparently it didn't go straight down when sunk); the helicopter particularly impressed with its sheer bulk, wide selection of complicated looking machinery & after a good swim to the tail we were able to look back along the full length. In the roomy cockpit many small fish (minnows I believe) clustered around the dials as we thoroughly explored a different kind of wreck.
Geoff led on & we headed off to find a swim through shipping container & a 'reef' of smallish rocks and the shipping container again :-).
Later we found a number of large pipes near the sump – normally not a very nice part of the dive but today in the excellent viz it was great and further along Tim took the opportunity for a quick turn in the tub 🙂
Turning around for the return leg we came across some very large boulders with a swim through I just had to try – not quite the Philippines Hole in the Wall (see that report for details) but beggars…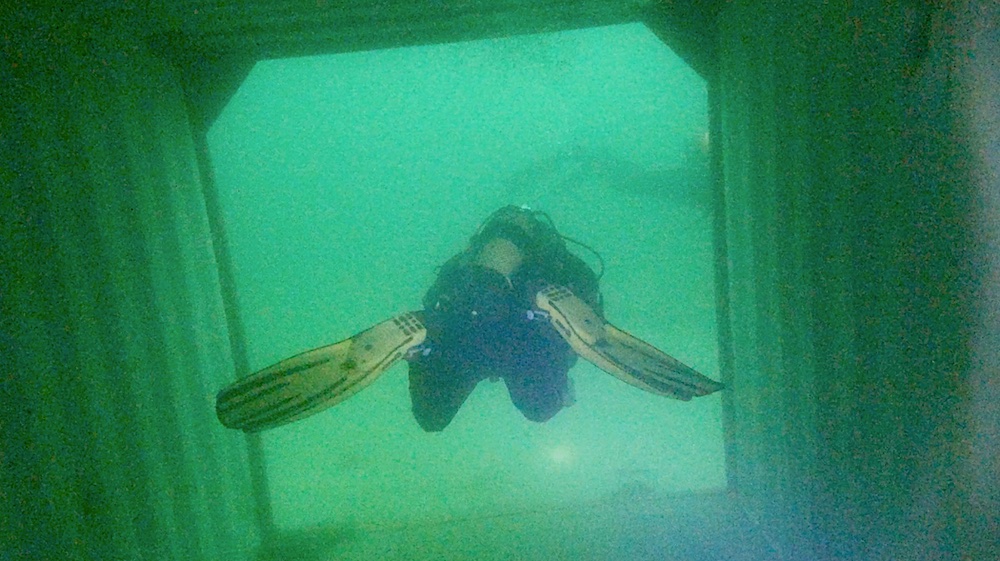 On we went to another shipping container before returning to the cabin cruiser & then a nice slow ascent as we watched the other group of divers down on the boat.
Surfacing after 64 minutes I realised that with a topside temperature of 2 degrees & a minimum of 9 underwater the cold hadn't really been an issue at all.
Coming up the pontoon steps we realised we were all a little out of practice, with most of our dives this year involving lifts!
It was time for something hot a snack & debrief 🙂
My thanks to Geoff & Tim for joining me, my wife for providing a warming bowl of porridge to start the day, a hotty to wrap my clothes in & a coffee for the post-dive – rumour is this might not even be the last dive of the year 🙂