by Chris L.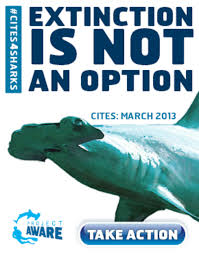 11th March, 2013 :
Hi All BASAC Members,
Right now, leaders from across the globe are at the 16th meeting of the CITES  Conference of the Parties in Bangkok Thailand. They are determining the fate of sharks and rays.
I've signed this petition calling for stronger protection for threatened sharks and rays:
http://www.projectaware.org/sharkpetition
You can add your voice too.
If you do just one thing today, sign this petition and send clear message to CITES leaders urging them to protect sharks and rays from unsustainable trade.
Sign the petition and let's tell Governments loud and clear: sharks are vital to our ecosystem and deserve better protection.
If you have not already done it then please hurry, it will be presented on Thursday in Thailand to support the call for protected status for Sharks and Mantas and thus help to outlaw the finning trade.
Chris