by Pete.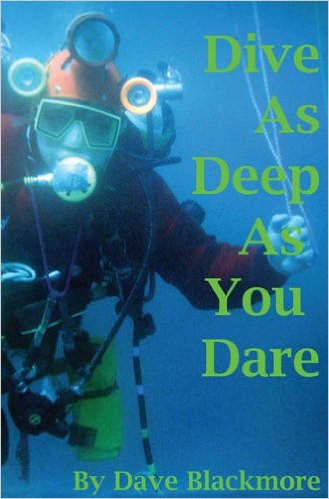 19th October, 2010 : May be of interest ; fellow BSAC member & Bristol local, Dave Blackmore, of the BSAC Portway SAC 524 Bristol has written and published his long awaited book called "Dive as Deep as you Dare ".  Dave has been working hard remembering his thoughts and experiences from his many years of diving around the world.
From the Preface:
When I was a very young boy I had a certain affinity with the sea from early family holidays at the seaside, most children at my age were quite happy just floating about on the surface avoiding salty seawater up the nose and in the mouth. Once I had mastered some basic snorkelling skills I was up and running, although it wasn't until my early 20s, with some financial support from my parents, I was able to buy my own basic dive kit and really spend some quality time underwater. The British Sub Aqua Club number 3 was the club for me and where it all started. Training practice and dedication drove me forward through the various skill levels to achieving my diver qualifications. As the dives got more challenging so did the training. I got to dive with some interesting people all as keen as me to visit new wrecks and try out better gas mixes in order to achieve them.
Over the 30 years I have spent pursuing this sport I have had some great times and some near misses. I was inspired to writing this book for the same reason I loved to dive, the passion I have felt for diving all through the 30 years has never waned, even when I have been faced with close calls, demanding work loads and cancelled dives due to poor weather. One good dive is all it takes to put things back in to perspective. The past 30 years spent visiting dive sites in various locations around the world has been part of my life and I don't feel I have wasted a minute. Life's a journey; take the time to enjoy it. This book will take you on a selected 30 year adventure into some of my top dives.