by Carol.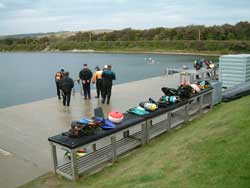 A fortnight ago saw the club make the second visit this year to Horsea Island for another training day.
The usual group of instructors attended to put the rest of the divers through their paces in terms of drills and skills.  What appeared odd about this group of instructors was that I was now one of them, although as yet an Assistant OWI.  I had recently taken my practical exam and was awaiting the result.  Harry & Tim were in no doubt that I would pass, but of course one always has doubts about ones performance.
Prior to Horsea, we had already carried out various drills with Sally & Paul G, so this day saw the completion of Rescue 1&2.  The weather was kind to us and all those who had to practice skills were eager to get on and get in.  Sally & Paul completed 1&2 and wanted to do Rescue 3.
Oh my God I thought, that includes mask clearing, and of course I had to demonstrate it first.  For those members who were not in the club when I did my pool training, it took me 5 weeks to be able to take off my mask in the pool.  Every week I tested Andy's (Wilson) patience and every week the patience never faltered.  The night I actually managed it I told everyone.  I even went into work the next day and told my boss.  That for me was one of my best ever personal achievements.
At Horsea, I did the demonstration, Sally & Paul followed.  When our dive had finished, Julia asked me if she too could also do Rescue 3.  This meant I had to do it all over again.  Mask clearing in two dives – no sweat!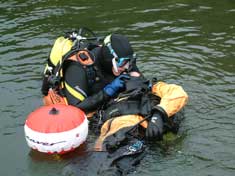 The same thing goes for any drill that I have to do as an instructor demo.  Can you remember the first time you did AV and how sick it made you feel having to put your mouth over someone's nose.  Tim summed it up really the day at Horsea.  Once you have been diving for a while you snog someone else's nose without thinking about it.
Instructing divers for me is a gratifying experience.  It wasn't so long ago that I used to feel physically sick before getting into the water and not to forget my first open water dive which saw Harry led on top of me trying to do up my weight belt.  Just wish we had caught it on film.
How things change.  If it wasn't for Andy and Harry, I wouldn't be writing this today. My deepest thanks to them both and to Tim for his endless encouragement.
Photographs by Bob Abbott, 2002.
Page created by Paul Morris. Last updated on: 08-December-2002
Copyright © 2002, 2008 Bristol Aerospace Sub-Aqua Club